Spouse by
flari.

Featuring sims by
simchenelin,
whispered_rumor,
stakeit_uk,
marvelann,
backerbse and
in_as_much.

PREVIOUSLY ON THE CHIA LEGACY...
Takara and Tomy were born.
A grand total of 191 garden gnomes/lawn ornaments was purchased.
The weekly theme was to make everything red. Horrible image quality ensued.
Puddi became a teenager


So where we last left off, Tomy had just been born.




Puddi: So, what do I do with this?


Puddi must clearly be impressed at how Giga is able to keep his robe upright in such a gravity-defying manner.





Takara meanwhile, is having nightmares about spatulas while napping on the couch.





The next day, as Tophilu wanted to get the kids into Private school and she needed an aspiration boost to get a promotion, it was time to send in the headmaster.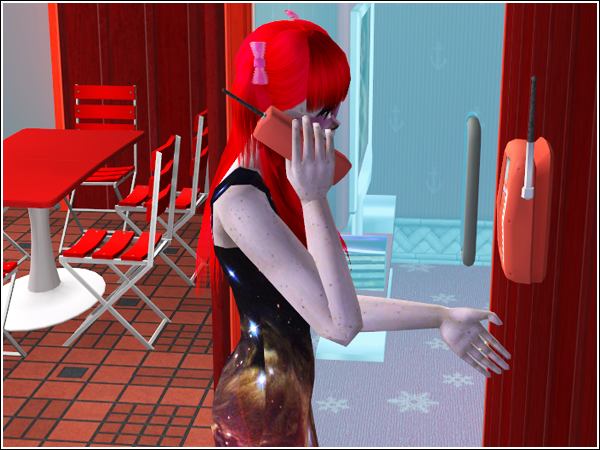 Quick children, into the formalwear! I don't care if I forgot to buy new formals to match the red theme!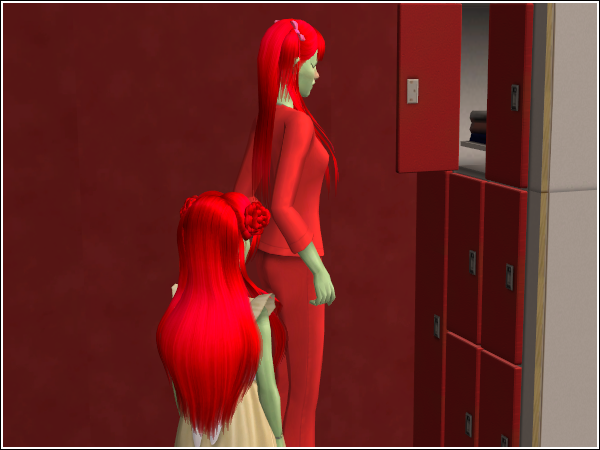 He's here!




Kai: My, my, it appears we're both in suits.
Headmaster: Suits give a wonderful first impression, our school loves it when people wear suits.


A quick house tour to get those approval points up.




Headmaster: Everything is red! Wonderful! Red's a very creative colour!


Also, this woman followed Kai back from work.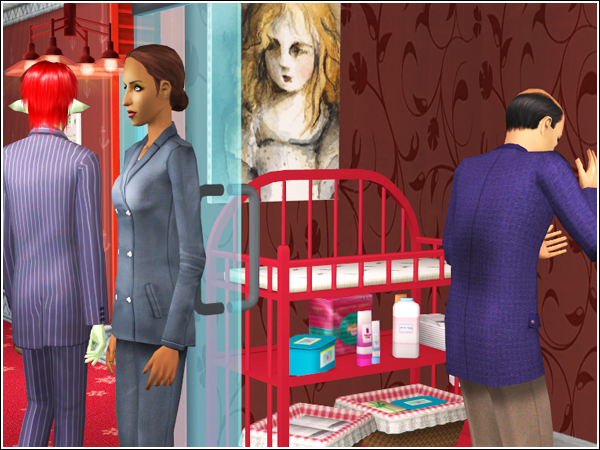 Work partner: I only came here for the free food.





Work Partner: I got what I came for.
Giga: Frankly, I think father is a little too old to be a student at your private school. Me on the other hand...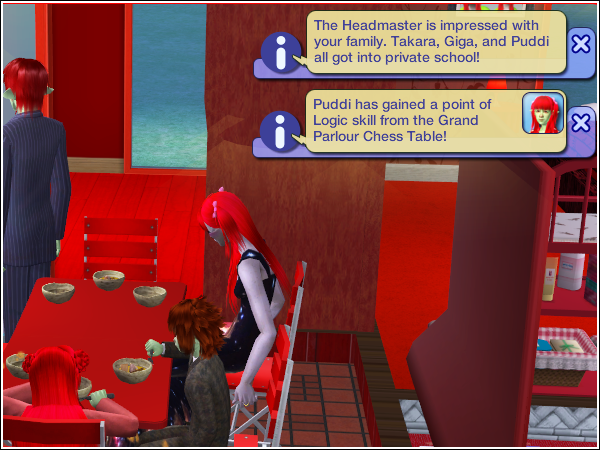 Success! And good job getting into private school, too!


Thank god it wasn't Puddi making the dinner.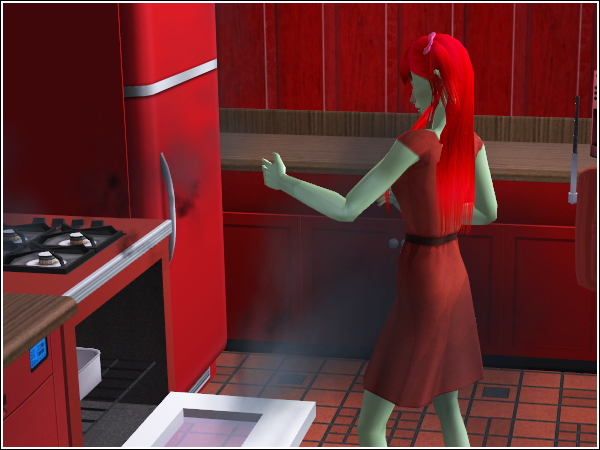 Also for some inexplicable reason someone left an espresso cup outside.




The following evening it was the birthdays of Tomy and Giga.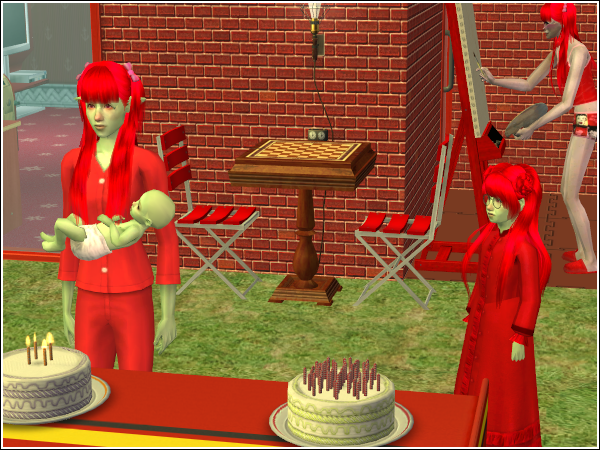 Tomy being a cutie patootie.





And Giga... well, No-one was really fussed about Giga.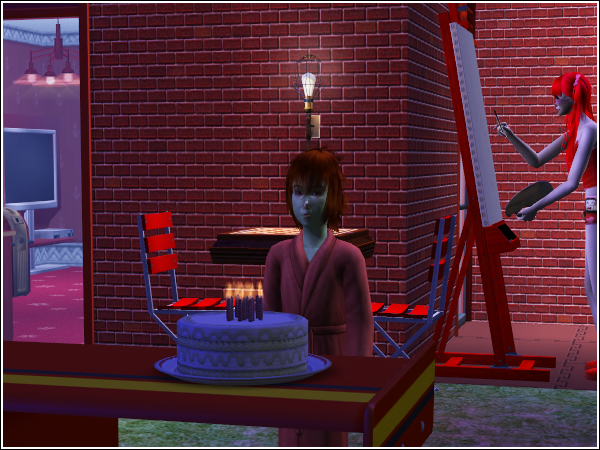 Giga: Oh. Great.





Puddi: Uh... YAAAAY! Look at that sparkle!
Giga: Too late now!


He's all grown up :)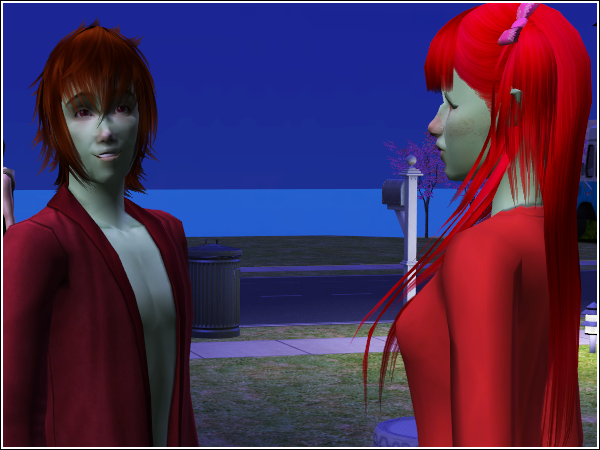 And so, the age-old tradition of dad-dancing commences!




Ggia: Oh no... I was warned that some day this would happen.
Puddi: Please stop, dad.


Takara still thinks he's cool.





And at long last, the red challenge is over! Now the house can go back to being all nice and multicoloured.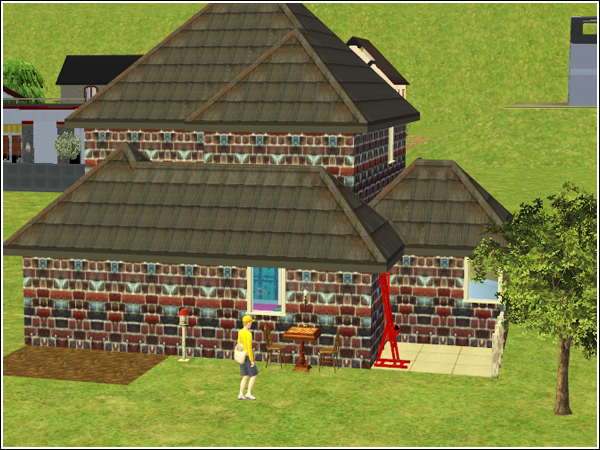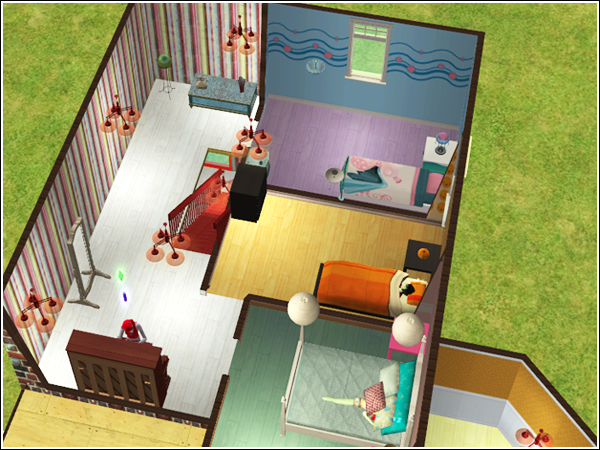 And The men can get their old hair back.




While we're at it, here's some information.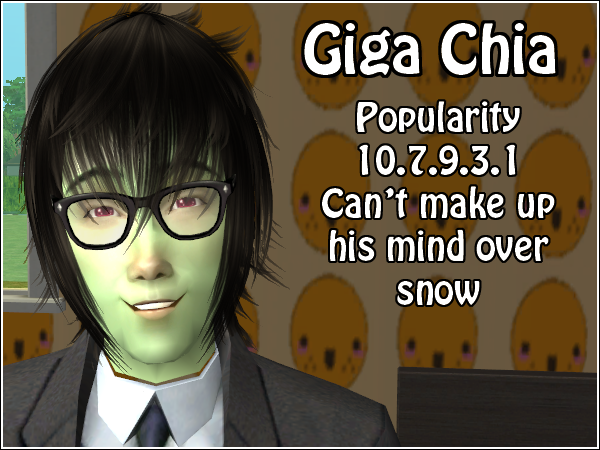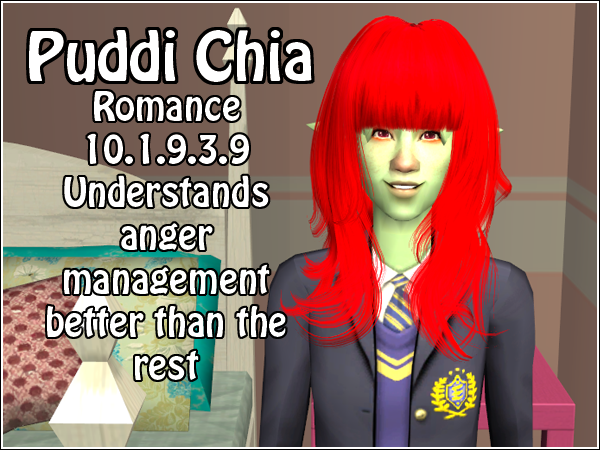 I realsied that having Puddi with the same hair as her mother lead to a lot of confusion, so I changed her hair anyway.


Look at those fancy private school uniforms!





So, what will be this week's challenge?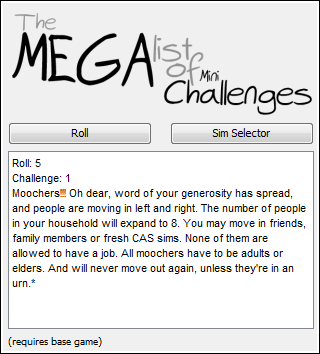 Well, that's a good enough opportunity to introduce more Pixel Trade sims into the family.

So, say hello to the lazybums who'll be mooching off the Chias for the rest of their lives, Ned (
simchenelin) and Autumn (
whispered_rumor)!





There's not enough money to build extra bedrooms for these two, so instead they'll have the privilege of staying in this lovely tent next to the house. It even has a tree in front of it, can't argue with that.





One good thing about having some extra company is that now at least one person can always pay attention to Tomy.




Autumn:Hell no, I'm not touching that stinky sprog of yours!


Fine, we'll just have Ned do it.




Ned: No chance.


Well, I can see these two are going to be useful.

To be fair, since they're mooching off this family, they can always provide free labour in the form of maid duty I suppose.





I love it when toddlers dance.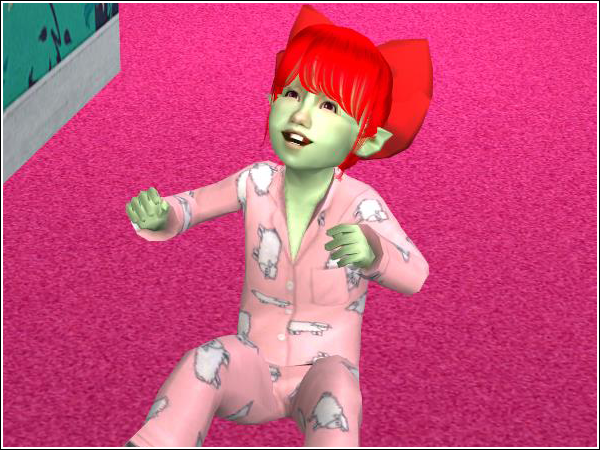 In an attempt to get skills up quicker for easy promotions Tophilu looks more like a b-movie monster than ever.





It backfired on Kai.




Autumn: How do you make your eyes glow like that? That's an impressive trick. Treat for you!


The next day Giga brought Kenton (
stakeit_uk) home from school.





Likewise, Toph brought home Virgina (also
stakeit_uk) from work.





Giga being a hypocritical bastard danced just like his dad.




Giga: I bet I look real hip!


Miranda Lawson (Non Pixel Trade) invited herself over to join in however. It's better than Commander Shepards dancing I suppose.





Then Virgina hopped on board.





It was also Tomy's birthday.





She turned out looking a lot like Puddi.





Then half of the people in the house grouped together in the master bedroom.





Never mind that Kai and Tophilu were both still asleep.





To accommodate the extra people, this lovely little outhouse was built.





While I was at it, finally a greenhouse. Wanted to go back to growing vegetables again.





Kai maxed Charisma!




What animal magnetism you must have.


And it certainly seemed to help.





Money! Glorious money!
Plenty to spare. You know what that means, moochers?


That's right, now this house has a hot tub, bar and a bigger greenhouse! Beautiful!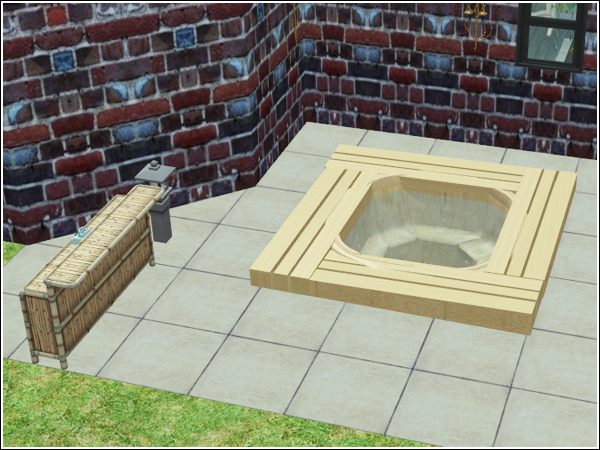 Speaking of gardening, the apple tree finally produced some strangely white apples. Meh, apples are apples.





Now time for 3 of the 4 children to become a teenager.





I love her.


And she loves the fish tank. Makes sense, considering she wore a mermaid costume and had a sea themed bedroom.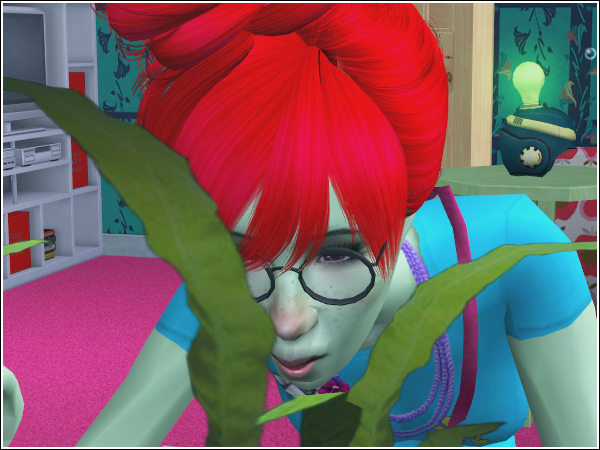 Well, that didn't take long.
At least they'll make beautiful non-official Chia babies.


Aaaaand walkby! Hello, Aadgka (
marvelann)!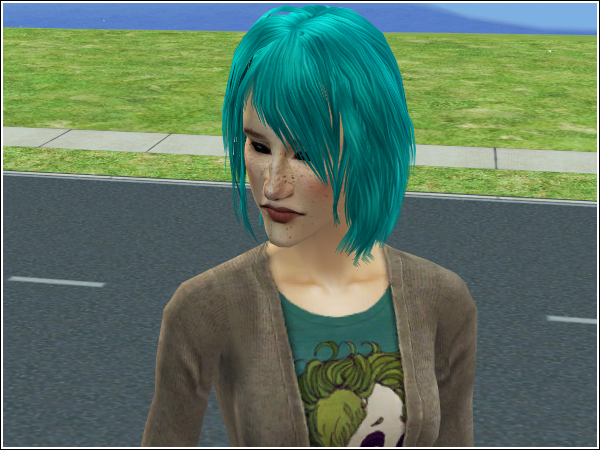 Giga still exists. He spends most of his time on the piano.





Or playing chess with Takara.




Skunk: This is definitely where the twatface lives. I'm going to get all the vengeance.





YES.
(Also I find it kind of amusing that Kai is the law, yet he's married to a professional criminal. Suppose it works in Tophilu's favour)


And that woman seems to be at the house every single day.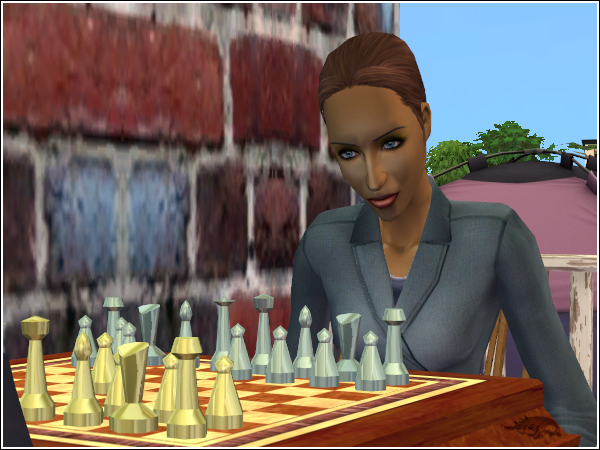 Co-worker: Free food, free chess, all a lawyer needs.


I'll give her a makeover since that Maxis makeup is horrible unflattering.




Co-worker: Free makeovers too!


Lol Lol (
backerbse) made a brief appearance.




Kai: So this place actually has a lot of attractive alien immigrants?
Lol Lol Of course. We can't live on a planet where it costs $60 for a packet of gummy bears.


There was a thunderstorm and I completely missed poor co-worker's fate.




Co-worker: This place sucks, I'm never returning.


Catalina (
in_as_much) walked by early the next morning.





And the moochers? Well...




And in Toph and Kai's bed as well, FOR SHAME.





That good, eh?





Ned: And I thought I needed a wash.





Ned: NO FAIR! I WANTED TO USE THE SHOWER! *sob*
Tomy: Get out.





Ah. Well that explains all the screw-ups.





YES.

And I must say, her new uniform is kind of sexy.






Hey, Cheer.





Fuck you, Cheer.





Tomy chose to spend the day trying to sell lemonade.





The time where Ned decides to buy a pity-drink and it's when her first customer, Monopoly Toybox actually shows interest. Good job screwing over her business prospects.





Autumn loves to pop.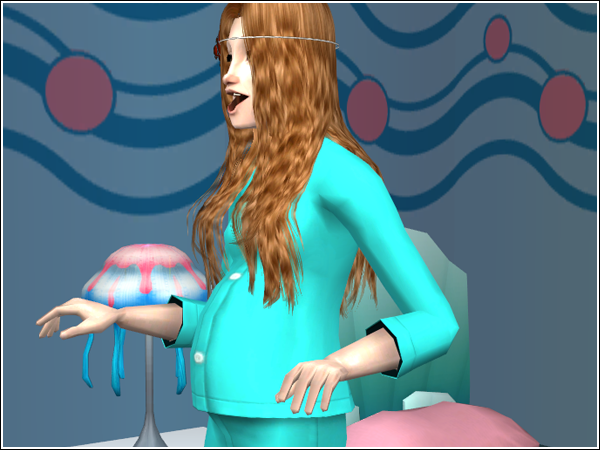 It's another birthday evening. This time we have Tophilu and Tomy ageing.

First, the old lady herself.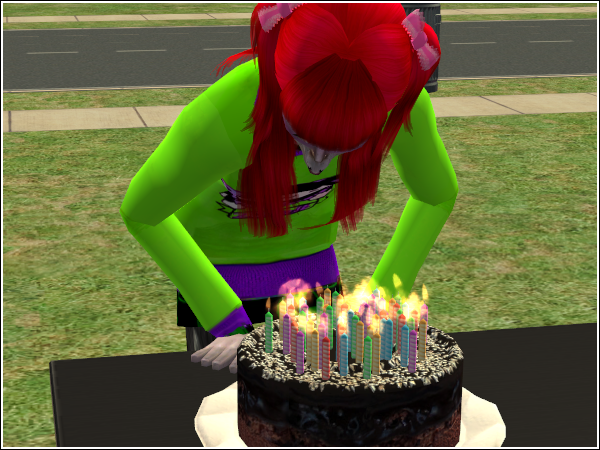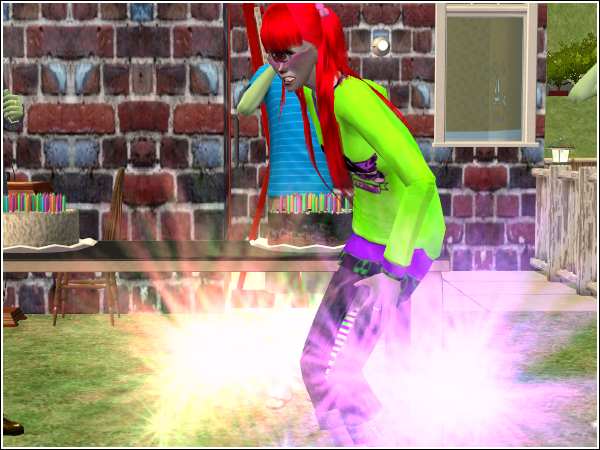 For an elderly alien cyclops, she looks pretty damn good.





And so, onto Tomy.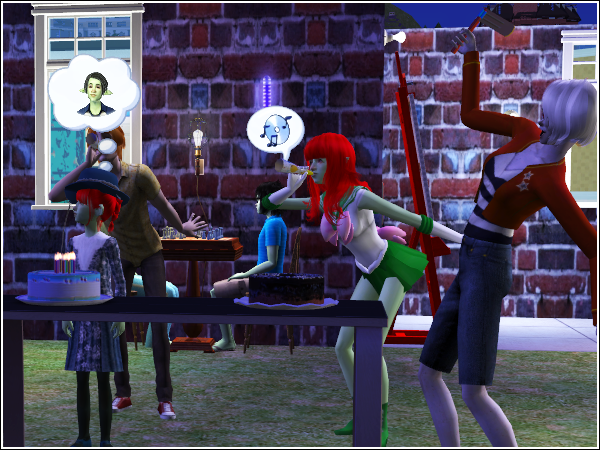 Tomy: Isn't dad going to grow old too?





Tomy: I wish for... another hat!






She's pretty much just a clone of Puddi to be honest.




Maximum logi already! Considering most of my sims don't reach that stage until their late adulthood, that's pretty damn impressive.


It even got her a scholarship.





Speaking of college, now all the children are teenagers, I can send them to college. But first, I need to know who will be continuing the genepool of this legacy. So, below is a poll for the selection of the next heir. If you're having problems with the poll then just write who you want to be heir in the comments, and I look forward to seeing your choice!






PREVIOUS

1.0|1.1|1.2