Generation 6 spouse by
runningbee
Generation 5 spouse by
zip_itsims

Featuring sims by
boolpropbea,
marvelann,
remisims and
stakeit_uk!



PREVIOUSLY ON THE TOYBOX LEGACY...

Starscream married Aurelius (
runningbee), who then took off for work halfway through the ceremony.
A new house was built and as a result there was no money, so Starscream began work as a gamer.
Nose Marie became a tanning addict.
Buckaroo and Kiribati both became elders.
The Care Bear themed children, Cheer and Funshine were born.
The paper boy can see through walls.

We'll just start off with Funshine being adorable.





And tensions within the family.




Buckaroo: JIGSAW PUZZLES? Are you a ruddy lunatic!? Everybody knows that jigsaws pale in comparison to Mahjong!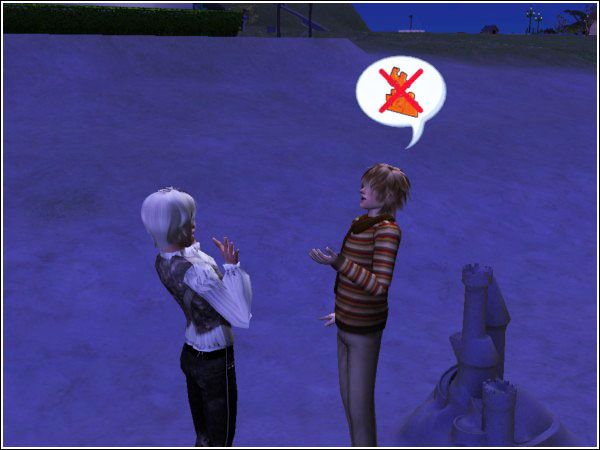 Aurelius: You're mistaken, I think jigsaw puzzles are boring too!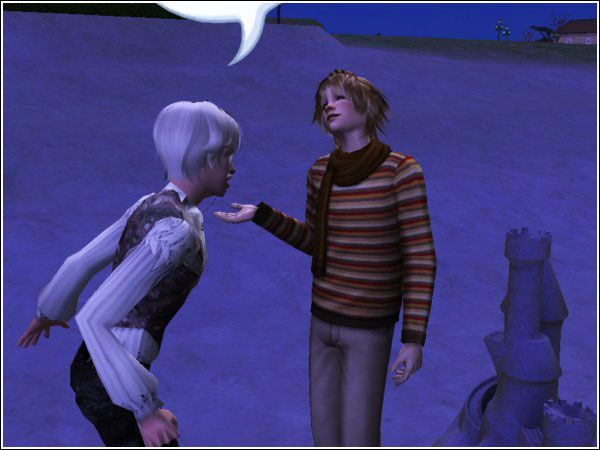 Buckaroo: ONE LOVES JIGSAW PUZZLES!






Wow, even when she's sleeping Cheer looks pissed off.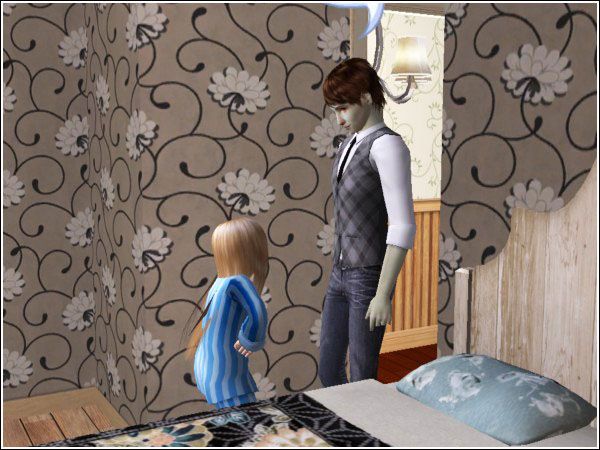 Cheer: WHO THE FUCK ARE YOU?
Gaul Dex (
boolpropbea): Your mother dragged me in as a free babysitter.
Cheeer: GTFO.


BABY TIME!





Seems Grimlock heard the screaming from his own place and invited himself in.




A baby girl! She's called Share.




Grimlock: Whoohoo! Another follower of the Holy Tree Stump!





Grimlock: Drink up, little one. It's the juice of the great tree, ready to cleanse you.


Well, now it appears that Share has been baptised into the tree religion, there's bee more plant life around the house. Actually I just thought it looked a bit plain. Nose Marie ain't happy though.





I can see Gaul and Grimlock are going to get along very well.





It's also Funshine's birthday!




Adorable.


The children play on the beach while a stray dog looks on.




This is the happiest I've seen Cheer look and it's when she's about to slap Funshine in the face. Who looks equally as happy to be hit.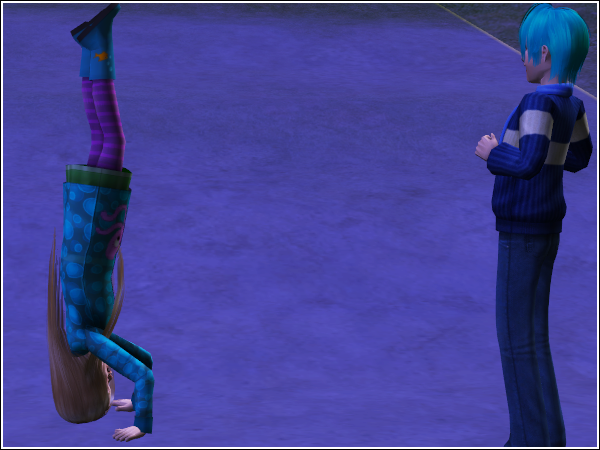 It doesn't even look like he's looking in her direction.


The bathroom sure has become a popular hangout spot as of late.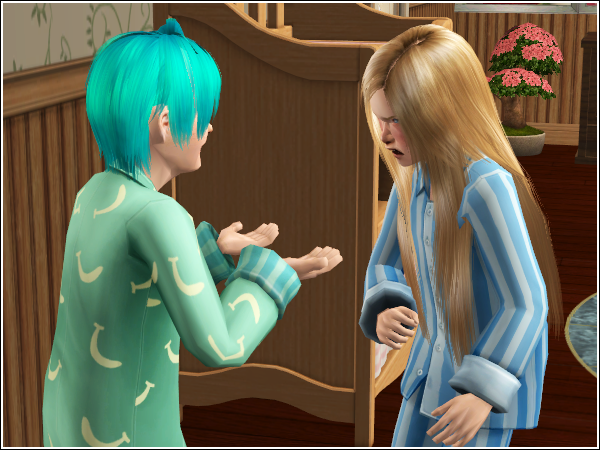 Funshine: I'm just a poor boy nobody loves me
Cheer: FUCK OFF.


The elders are all obsessed with building sandcastles. It's like this is the closest they can get to a retirement home.





Nori (
marvelann) was spotted walking by!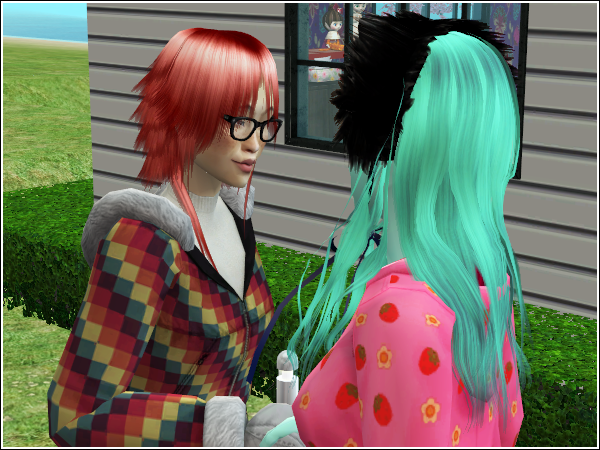 Not to worry little one, you no longer need to lie on the floor...





...For it's your birthday!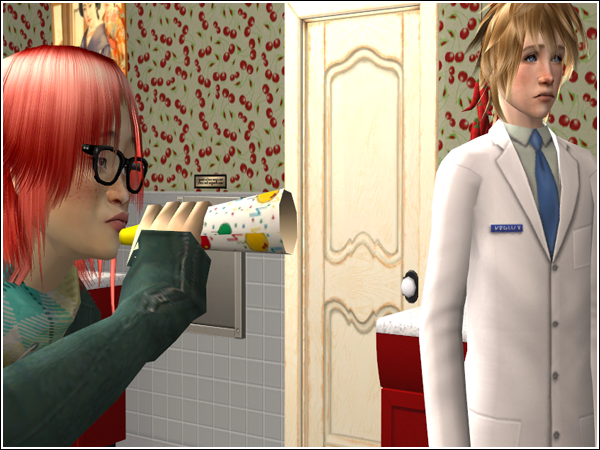 Nori: Yaaaay... wooo...
Aurelius: Why couldn't I have the party blower?


Now that's over, you will be placed right back on the floor while everyone else eats your cake.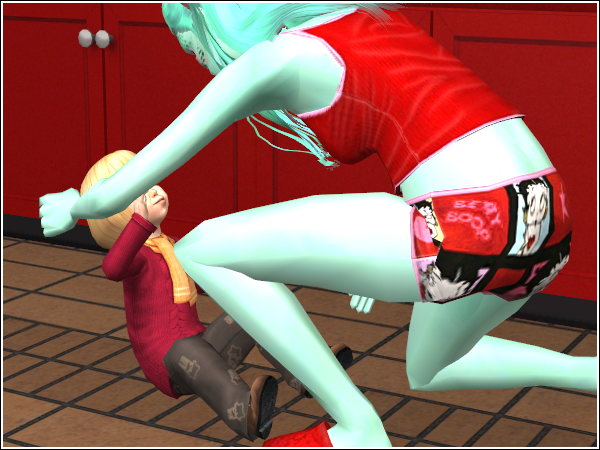 At least until you get a new haircut that is.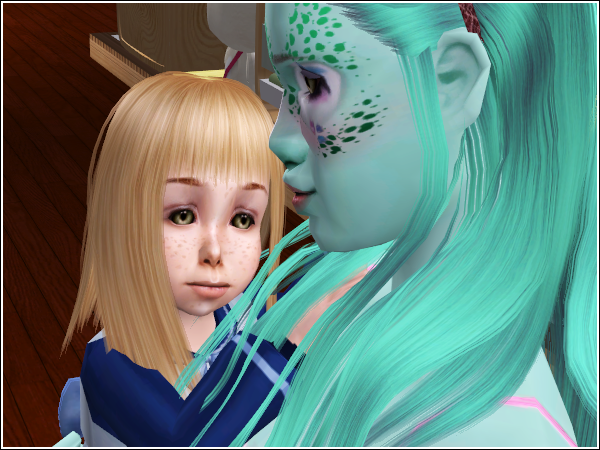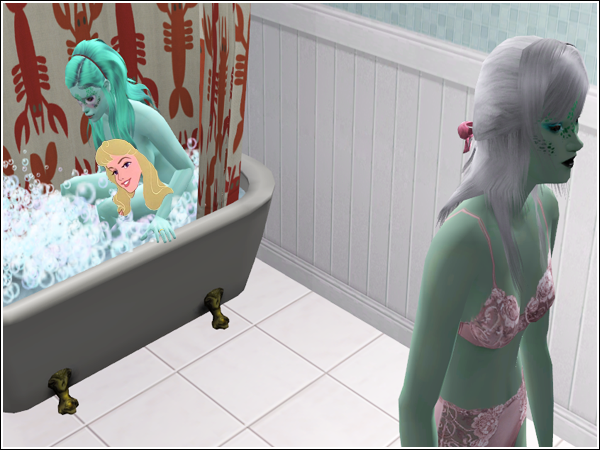 Starscream: Konnichiwa, mother.
Kiribati: Don't mind me, staring at the wall, smelling your suds.





Ghost bed, GHOST BED!


Despite the snow, Aurelius felt the need to sleep outside.




When the snowfall fell heavier he disappeared. I ended up breaking ISBI rules to check where the hell he was and found nothing but his plumbob.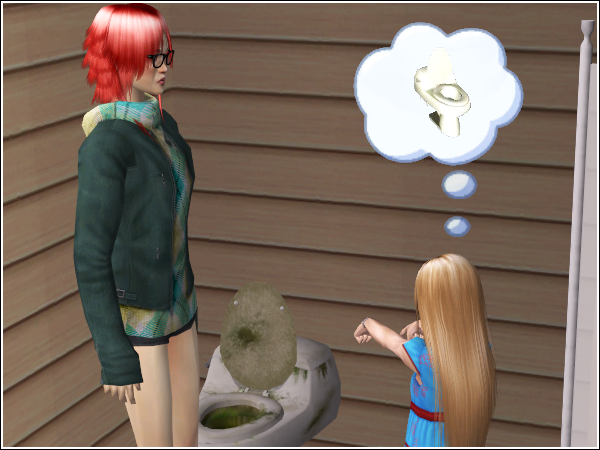 Cheer: ARE YOU KIDDING ME VISITOR-LADY?
Nori: I swear I didn't...
Cheer: YOU EXPECT ME TO USE THIS TOILET, YOU DISGUSTING CREATURE?




Cheer: MY LIFE IS RUINED.


Nose Marie chose to build a snowman.




Funshine: By golly, I'm an artistic genius!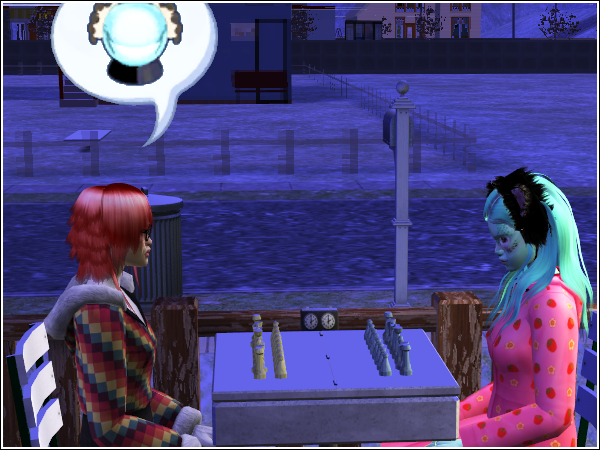 Starscream: So how exactly do we play chess when the entire board is covered?
Nori: We predict where the pieces land.




(I'll be honest, I just loved Nori's :O face in this picture)


And that's just adorable.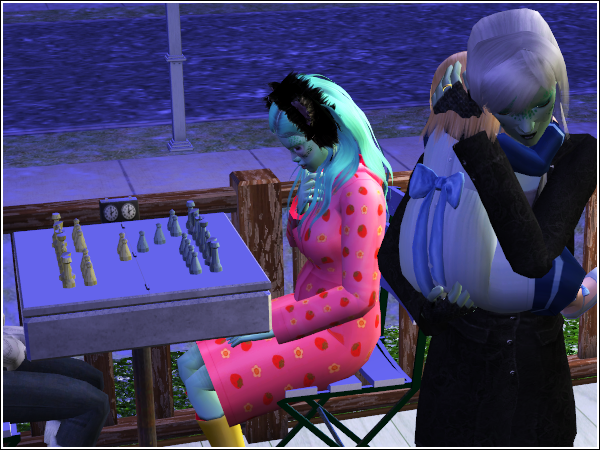 Not so much when Kiribati and Buckaroo make out in front of her crib though.





Baby number 4!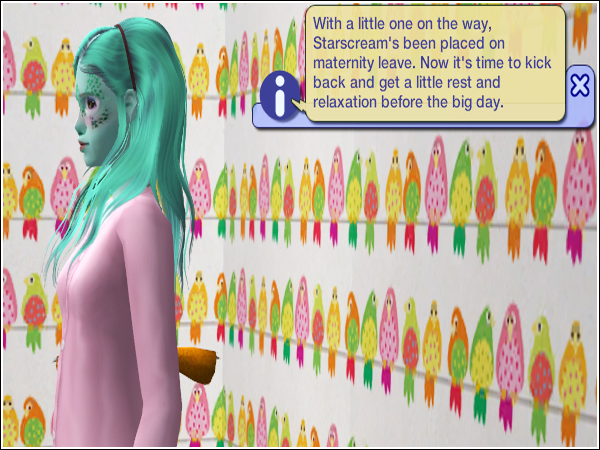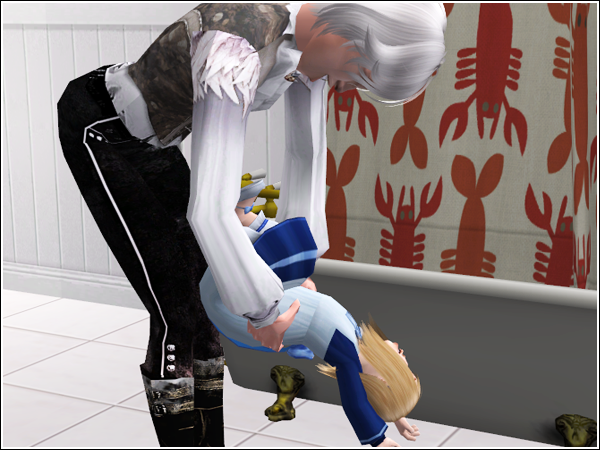 Buckaroo: By jove, your hair seems to defy gravity!


Oh, hello Bright Eyes! What happened to your ears?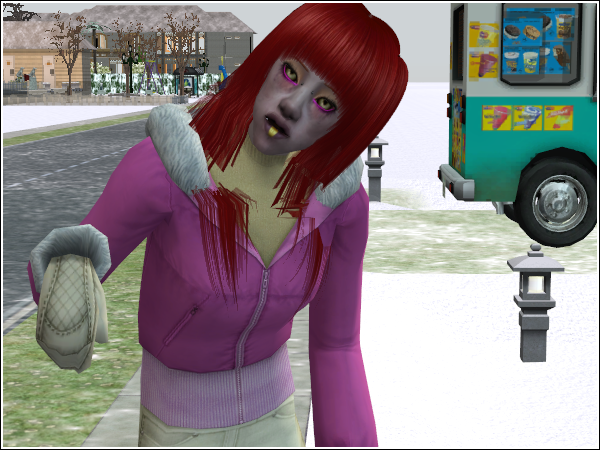 Bright Eyes: They rotted off. Still a azombie.


At least sister Nose Marie was able to make her smile.




Grim Reaper: Peek-a-boo, I've come for you!
Kiribati: God damn it.


The only people who seemed upset were Cheer and Nose Marie. I mean, Starscream was smiling for crying out loud!




Starscream: She was a terrible mother.

There's a thought, how has Kiribati died before Nose Marie? She must be immortal. Or maybe she was one of the sims whose ageing glitched back to the start when I made everyone switch neighbourhoods.


Looks like Cheer will have to take over her inappropriate duties now.




There was a bit of a gap between that last load and the next, since I forgot to turn on AngryCapture so things might get a bit blunt here.

First off, Optimus Prime came to visit.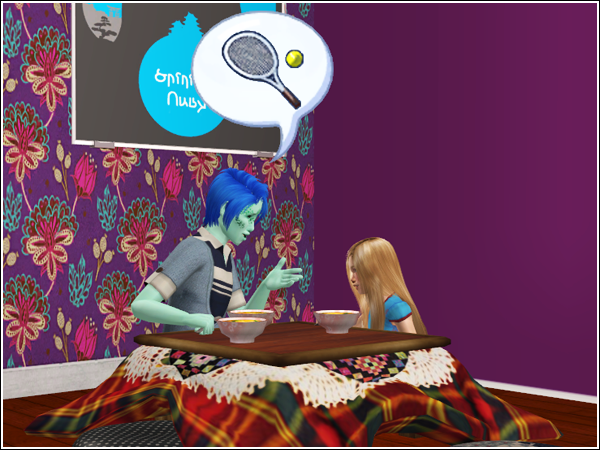 Optimus Prime: And remember, if you ever feel the anger building up inside you, it's perfectly safe to grab a tennis racquet and let it out on your nearest relative.
Cheer: YOU'RE THE BEST UNCLE EVER!


It's about time Starscream paid a bit of attention to Share.





Even Optimus joined in.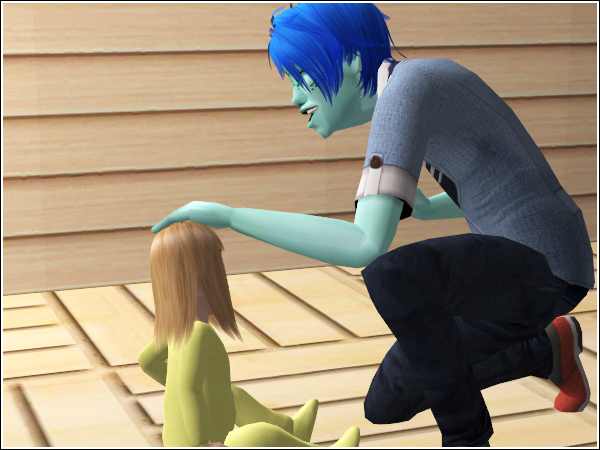 Optimus Prime: Man, I sure am hungry!
Starscream: *fart* *poop*





Nose Marie: I'm the longest-surviving sim and yet you never pay attention to me!
Maybe that's because you're sitting on that bed all the damn time.


Disease or not disease, Funshine will jump all over those toilet puddles.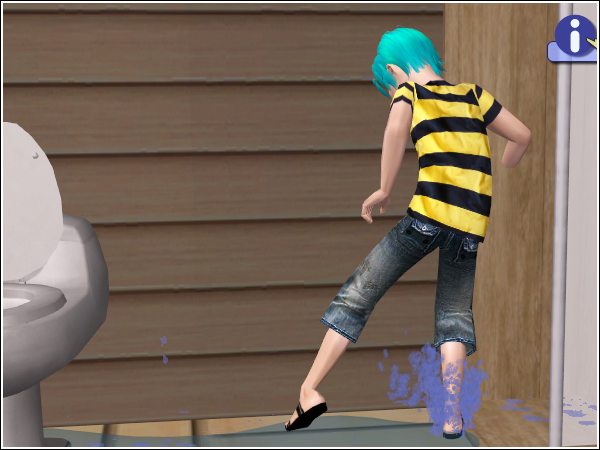 Speaking of disease...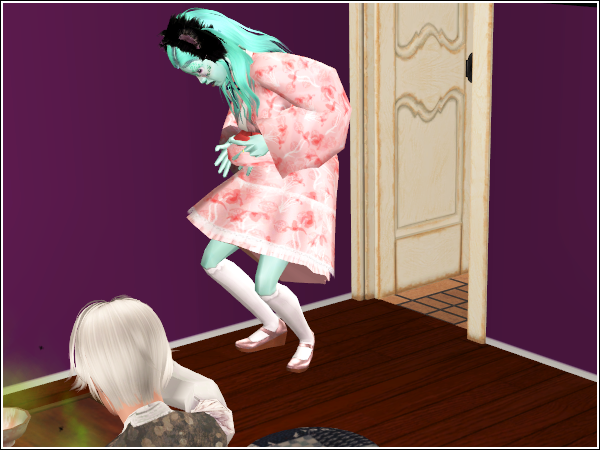 Starscream: I don't know if I'm in labour or if it's that old sushi!





Cheer: EXCUSE ME, DID I ASK FOR ANOTHER SIBLING?


It's a boy!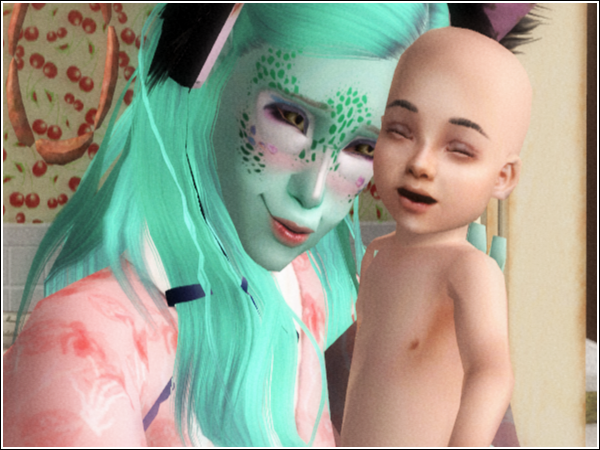 Named Tenderheart!





Who will naturally go to the same place all cute little babies are kept.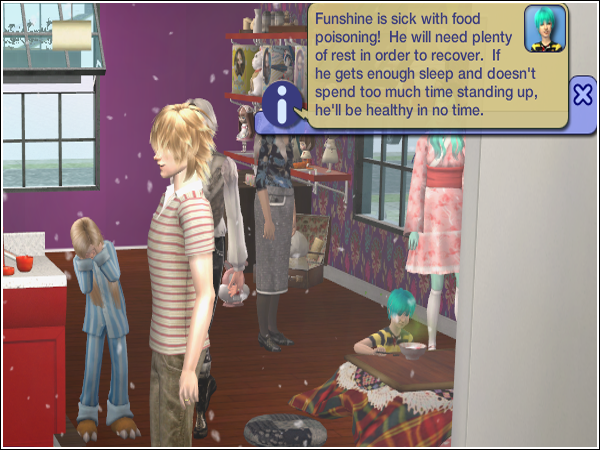 Ah.
Cheer: I WANTED TO BE AN ONLY CHILD!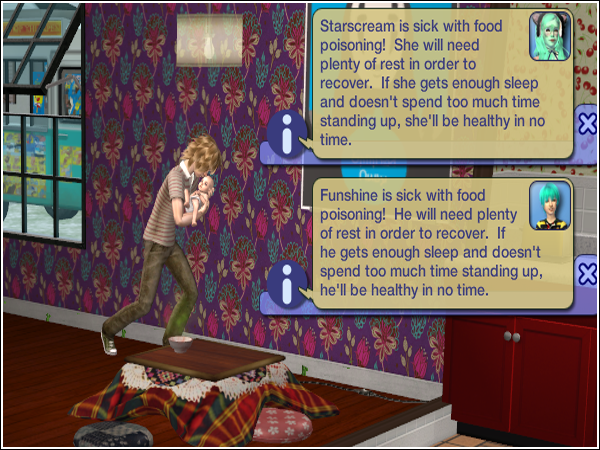 I think I got the message the first time!


Obviously the quick peek-a-boo session was deemed enough attention to give a toddler by Starscream considering Share's new friend is the toilet.





And she's also reverted back to how things were when she was merely a baby. That being made to sleep on the floor.


Rozhana (
remisims): The bin was like this when I got here.
Suuure it was. But I'll let you off since you're so adorable and I want to marry you into one of my legacies at some point.


Common fangirl target L was walking by and was immediately invited in considering the girls' birthday was just around the corner.




L: So this means I can have a slice of that cake, right?





Share: Niiiiice!


Since I couldn't be bothered to let Cheer wait to age by herself when she could have her birthday at the same time I cheated and used an extra command for her to blow out her candles too.




Starscream: NO! SHE'S BAD ENOUGH AS A CHILD!

Again, because I'm unorganised, I lost the last load of images. Sorry about that.

Milton Monkhouse (
stakeit_uk) was also brought home from school.





I think he and Cheer are kind of cute together.




Cheer is also handy in looking after Tenderheart. That said, no-one really pays much attention to him.





I used her teenager command to help him age to toddler, since she refused to let go of him when it got to his birthday.





And here's the little cutie now!




Those eyes! <3

(Also of note, I have a simblr now! It's still untidy and it'll be mostly silly sims things but feel free to follow me!)


PREVIOUS UPDATES:

1.0|1.1|1.2|1.3
2.0|2.1|2.2|2.3
3.0|3.1|3.2|3.3
4.0|4.1|4.2|4.3
5.0|5.1|5.2|5.3
6.0|6.1