Generation 6 spouse by
runningbee!
Generation 5 spouse by
stakeit_uk!

Featuring sims by
slyndsey,
sounseelie,
apayo_x and
kathsy!



PREVIOUSLY ON THE TOYBOX LEGACY...

The entire legacy 'hood merged with the anime 'hood to make more space.
Unfortunate situations involving Cherries Jubilee that I don't really want to talk about.
The kids started university and alien weeaboo Starscream was chosen as heir!
Optimus Prime and Bumblebee fought to the point where nobody cared any more.
An immortal streaker trapped himself behind a staircase then complained when he couldn't sleep.
Starscream got stalked by the social bunny on her search for a husband, until she eventually found Aurelius (
runningbee).
Megatron got expelled and Soundwave went insane.
Nose Marie began following Starscream in order to check if she scored yet.
McDonald's has become very upmarket.
Starscream made out with herself on her first date.
Grimlock fell in love with Lola (
slyndsey).
Starscream got engaged and graduated.


So here they are, on a new lot, with just 20k and a small house holding only a toilet to their name.





I'll build a proper house later, but first it's wedding time!

I know I suck at sims decorating, but ain't it purdy? I love these little wedding dolls.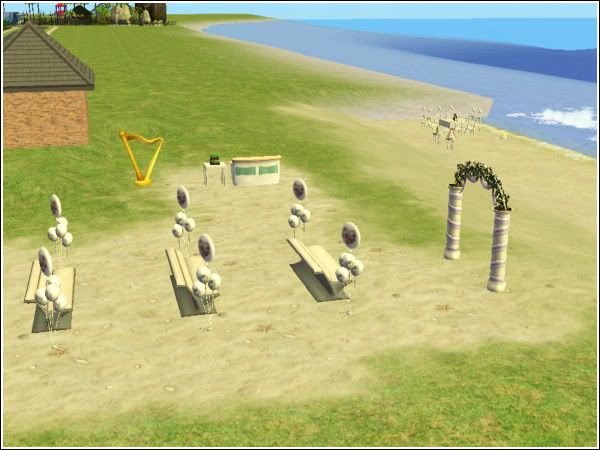 And now it's time to throw on the elaborate kimono, bring out the alcohol and party!





I had a whole line of pews lined up but nope, everyone wants to stand and watch. And they also believe it's Cludeo's wedding for some reason. Also hi, Lola, Monroe June (
sounseelie) and Lee Eun Mi (
apayo_x).


Nose Marie is missing the wedding altogether in favour of building sandcastles. Some grandma you are.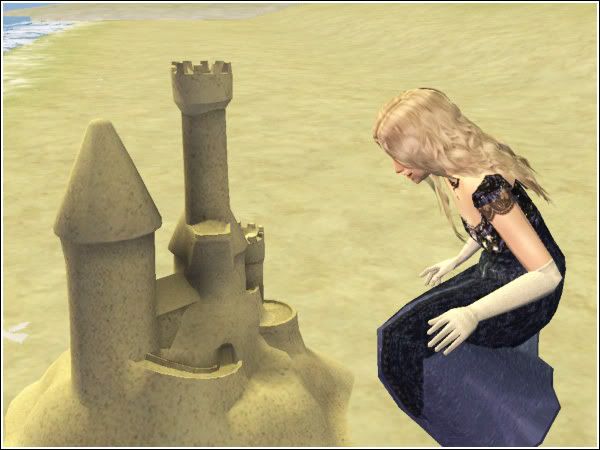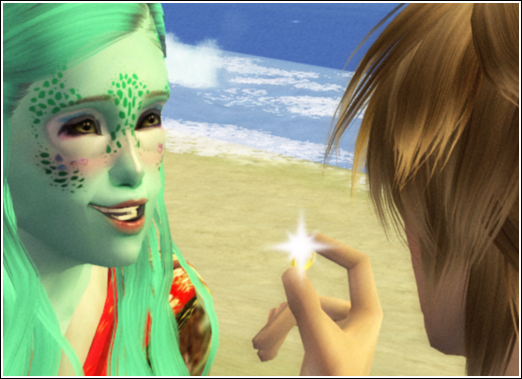 Then the usual wedding stuff, food, dancing, and I realised our new spouse is missing.




That little bastard snuck off the work at his own wedding! I don't know if that's dedicated or douchey.





Aaalll by myyyyseeeeelf... don't wanna be...


And then Starscream thought 'Ah screw it' and danced with Mi, L and Alessandro Ribbit instead.





And despite the groom running off as soon as he said "I Do" the wedding was pretty successful.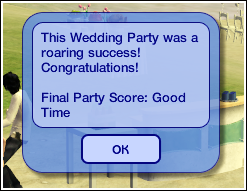 And so the house. It would have been a nice house if only I hadn't run out of money halfway through building it.





Only Starscream and Aurelius have their own room. The other beds have had to be placed in the hallway and living room.





Aurelius returned home, ignored his wife and went to play Rock Paper Scissors with Kiribati instead.





He had to be called to bed for the main heir duty.




Starscream: Being heir is awesome!





Starscream: Being heir is BLARRGHARRGH


Starscream's lifetime want is to be a game designer so the next day she started work in the Gamer career.




Hammy (
kathsy): Nice sunburn.
Aurelius: Oh Jesus that's disgusting, turn back!


And baby number 1 is officially on the way!





Nose Marie is blatantly ignoring the fact that she's badly-sunburned, she must be planning to become Tanning Mom.





And Kiribati just sleeps in her food, as usual.





But when she does finally go to bed she's plagued by dreams of sims she hasn't even met before.





So she instead gets herself into further awkward situations with this generation's spouse. Seriously Kiri, first your mother in-law's wife and now your son in-law, do you just have a thing for married Pixel Trade sims?




Aurelius: She's a cougar who won't leave me alone.
Kiribati: Don't be silly, can't a lady wear sexy lingerie while watching her son in-law sleep anymore?


Meanwhile, Buckaroo aged into a fine old man.





With Kiribati soon following.





A quick hair change later and... she looks like one of those elderly women you see in ads for trendy clothing shops for trendy pensioners. You know, like that one old lady in the more recent Marks & Spencer ads, minus the green. It looks good, is what I'm trying to say.





And Starscream soon popped. I know both kimonos and Lolita clothing can add a bit of extra bulk sometimes, but is it just me or does her bump now look giant in comparison to your typical sims pregnancy?





Or maybe it's just extra padding made from memory foam. It would explain how it managed to cut into the sink without causing harm to neither mother nor baby.





Very poor timing for illness, I must say.




Buckaroo: I say, one jolly hopes one's spouse isn't having rumpy-pumpy with one's son in-law. One shall have to watch you two.
Kiribati: Are you saying there's something suspicious about my recently-discovered-as-of-today love of juggling?
Aurelius: Please keep her away from me.


House update, I was able to build rooms for both downstairs beds plus a bathroom. :D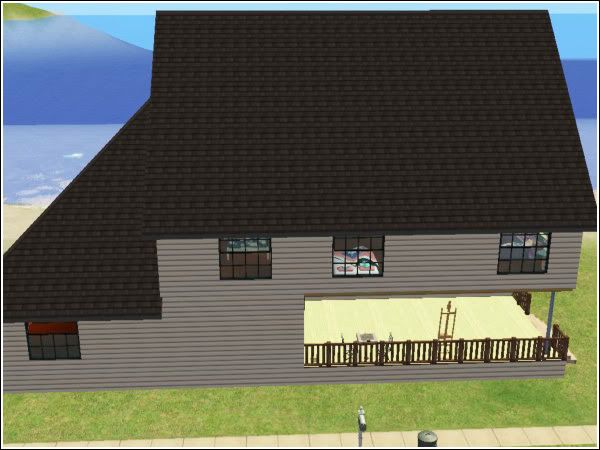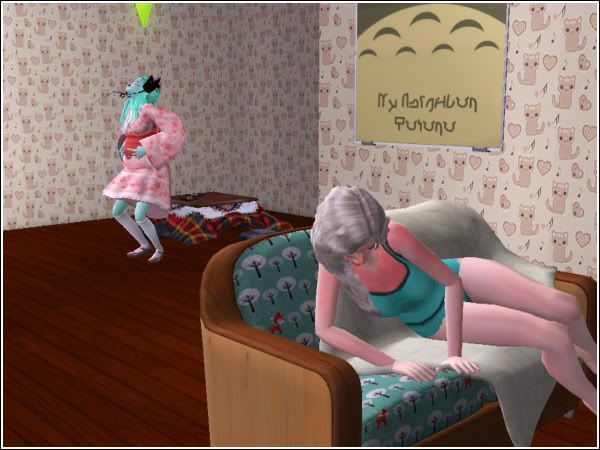 Starscream: OH KAMI I THINK MY WATER JUST BROKE.
Nose Marie: Yep, sure sure.


It's a girl!





And sorry folks, I'm going back to the girl themes this time round, it's Care Bears!
The eldest daughter is named Cheer Bear.





Unfortunately, as I had just spent everything on remodeling the house I'm afraid we had to make setbacks in regards to her living quarters this time round.




Cheer: 'I liked it better when I was a memory foam foetus'

Hey, just be glad it's not the floor.





Nose Marie: What were your parents thinking, I know of a much comfier place to sleep.
Cheer: 'I hate you, great-grandma.'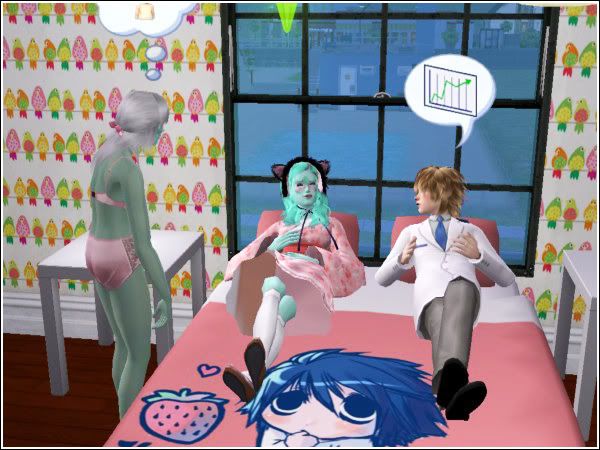 Aurelius: So I think something might be rising...
Kiribati: OH REALLY WHAT MIGHT THAT BE?
Aurelius: Piss off, cougar.





Buckaroo: One does remember fondly of one's dear late grandmother.





Buckaroo: Your foul stench is just like hers.


The next day I forgot that we had no money to pay for the groceries. ):





No Aurelius! Don't fall for her charms!




NOOO!






Ah, the influence option. All the fun of watching a posh old man attacking a shower with a wrench.


And before long, it's Cheer's birthday!




She's Kind of cute, but she also has a bit of a creepy smile.





Starscream decided to paint to make a little bit of extra money. Perfect timing considering she popped halfway through.






Considering none of the kids have been properly potty-trained I really shouldn't be surprised that the entire family seems to consider Cheer pooping the greatest entertainment they've ever come across.


Oh, Buckaroo, Buckaroo, Buckaroo, what happened?

You're unwashed and eating rotting chicken...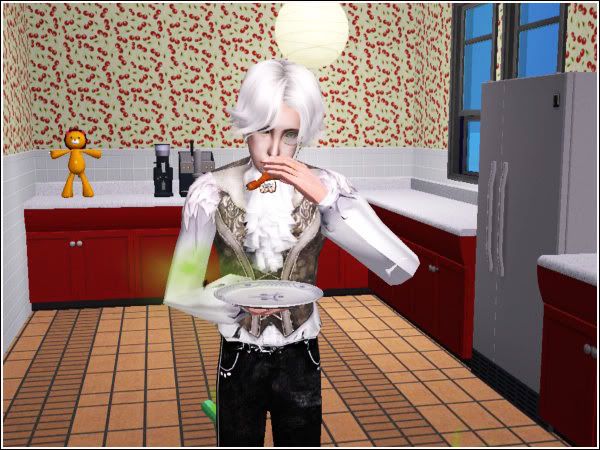 ...And you proudly fart. What happened to the snobby upper-class British man?




Buckaroo: By jove, one's flatulence has a delectable aroma of lilies!


Also, Cheer is a little shit.




Cheer: SLEEP-DEPRIVED, ARE YOU? WELL GUESS WHAT? IT'S TIME TO BE A PIRATE!






Cheer: I'M WATCHING YOU MUMMY. I'M ALWAYS WATCHING.


A demonic little shit who might very well have been possessed by her late great grandmother.




Cheer: LET JESUS FUCK YOU!





Cheer: ABOUT TIME I WAS A PIRATE.


Also, to add more suspicion over an affair, Kiribati and Aurelius started to prefer sleeping together as opposed to with their own spouses.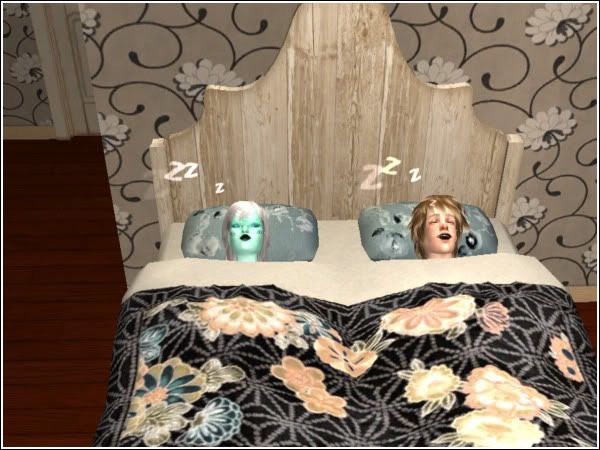 And before long, it was time for baby number 2 to appear!




Aurelius: Watching my wife in agony has really made me appreciate the glory that is food.


Somehow even the newspaper delivery guy managed to witness the birth from outside.




Bear in mind that this is the view seem from the newspaper kid. Either he has miraculous cyborg eyes or he's actually more shocked at the fact that Aurelius appears to be levitating from his seat.


It's a boy!





And his name is Funshine bear!





And before you can say "Who's cutting the umbilical cord?" Starscream heads straight to work because her bosses are twats that believe that spending 5 minutes to recover from childbirth and seeing your newborn is a bad work ethic.





Two small children means there are now two cribs. This being the Toybox household things are going to get irritating.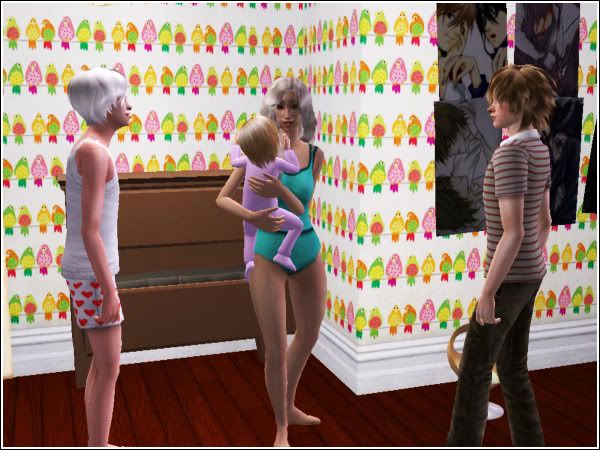 PUT THAT TODDLER BACK RIGHT NOW.


Some times, I honestly don't see the point in a crib for each child. The youngest is doomed to be placed on the floor anyway.





And when Starscream returns from work, she spends more time interacting with stray cats than with her own children.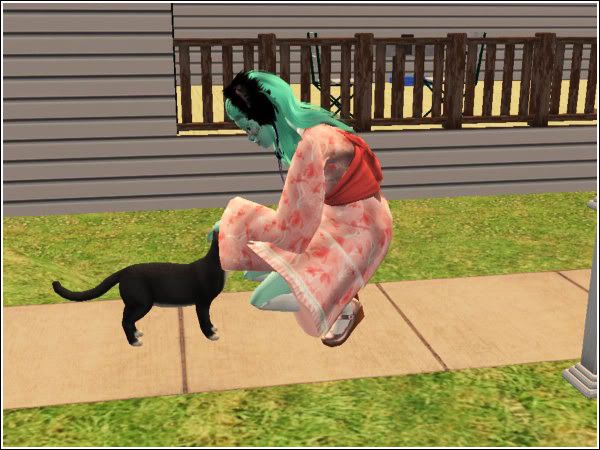 She will live to regret that decision.





That said, with Cheer at least, she's spent enough attention for her to successfully use the potty.





Buckaroo on the other hand, is a sad pathetic shell of a man who even this stray dog is looking at with pity.





But none of that matters because we're going to a 2-day timeskip to the joint birthday of the Care Bear kids!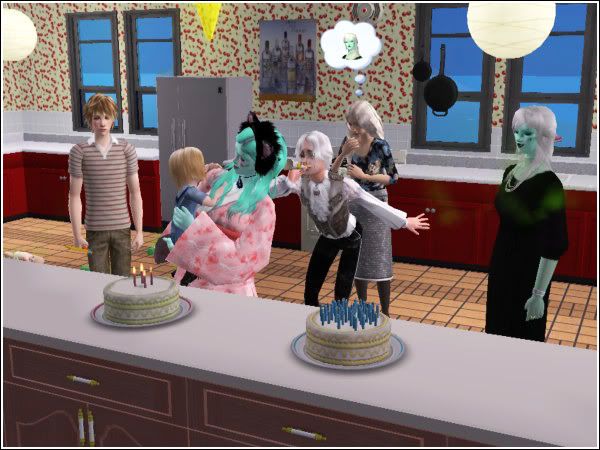 Cheer doesn't really look all that cheerful.





Must get it from her mother.




Starscream: Fucking babies and their fucking birthdays...


At least Funshine seems cheerful.





PREVIOUS UPDATES:

1.0|1.1|1.2|1.3
2.0|2.1|2.2|2.3
3.0|3.1|3.2|3.3
4.0|4.1|4.2|4.3
5.0|5.1|5.2|5.3
6.0