Generation 4 spouse by
alexination.

Featuring sims by
memiva,
slyndsey,
keoni_sims,
flari,
zip_itsims,
lilith_sims,
kathsy and
backerbse!




PREVIOUSLY ON THE TOYBOX LEGACY...

Memetic dancing. Buckaroo chose Caramelldansen while Monopoly and Scrabble opted for Gangnam Style.
Buckaroo's mouth became pouty. And by pouty I mean looked like a very strong vacuum was sucking at it.
Also a lot of crying at the swing for some reason.
Lorin is fined at work for a stupid reason.
Nose Marie became a Professional Party Guest amd thus reached her lifetime want.
Mr. Noe Whiskers died. No-one noticed.
Party Popple also died. This time people did.
And every child aged to teen ready for university!



So here we are, at the start of Generation 5 in front of a big new college.





Buckaroo aged and recieved Noe Whiskers' hair, which Lorin didn't approve of.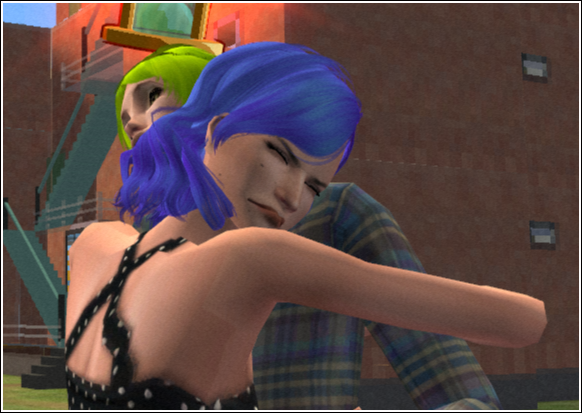 So a makeover later and Buckaroo and the other Toybox kids are ready to go!

Buckaroo matured from your average snob to a Quintessential British Gentleman.





Then there was Cluedo...





...Monopoly...





...Scrabble...





...And Jenga.





Their dorm this time round is a big-ass school with bedrooms.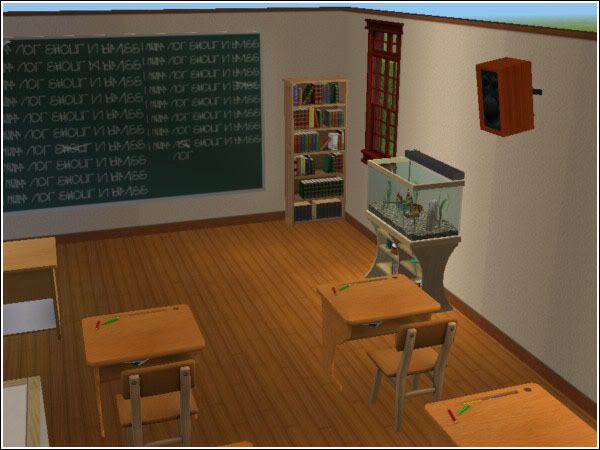 And of course, the dormies get the shithole room.





The graffiti in front of the doors pretty much sums it up.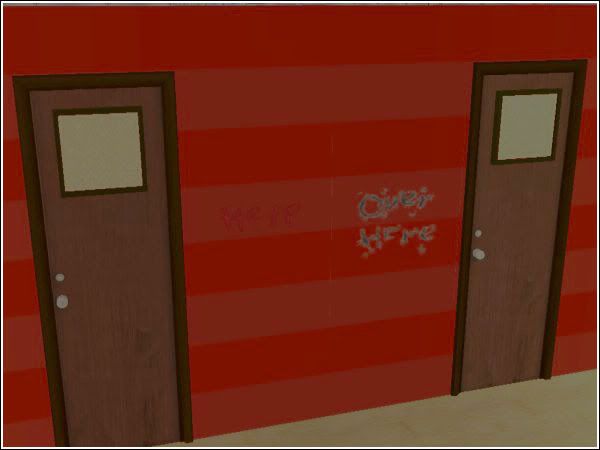 But anyway, before we continue, the heir must be announced! And it is...





...Buckaroo!




Buckaroo: Oh bugger! One desires freedom, I do say!


So now that's been sorted, time for more important matters. Unfortunately, there's nothing to do but build up skills and do assignments, so chess it is.





Buckaroo: By jove, is that a ball of wool behind you?





Jenga: Where?
Buckaroo: Outwitted.


Monopoly loves whatever he's searching on the internet so much, he's glowing.




Dormie: It's so beautiful!


Speaking of dormies, this one was talking to Cluedo very overdramatically. I think she's a drama student.





She later trapped herself behind a table and chairs. I am not kidding. There's even a space that she could easily walk through. This is why dormies are such acceptable targets.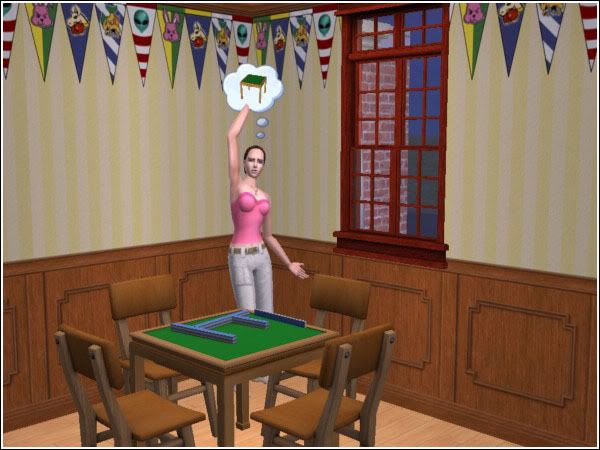 Buckaroo has the most fabulous gym gear.





You can just about see the disappointment on Monopoly's face as he realises he's going to hit his head on the bar.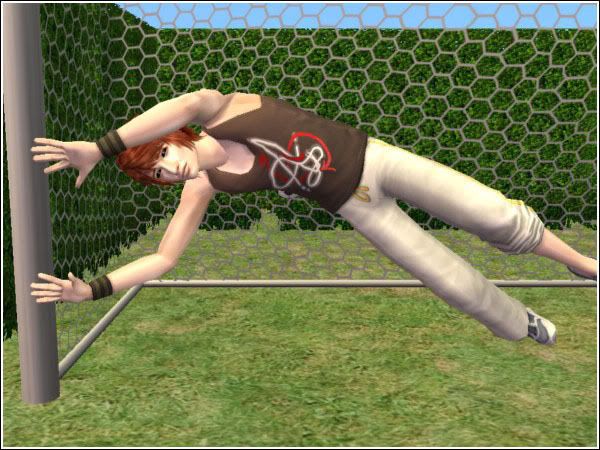 Alcohol will clear that headache up.




Monopoly: And that's when I realised I'm robosexual. And I have dreams of becoming a cyborg! Bionic Mono. Sounds great, right?
Jenga: Sounds drunk.





Monopoly: How dare you offend me!


And some time later...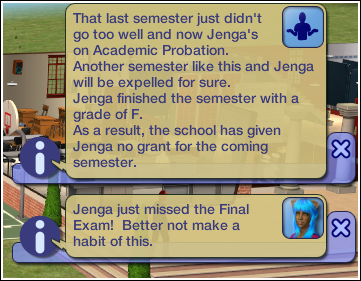 Really, Jenga? You were in the first half of your freshman year! I've seen gerbils do better!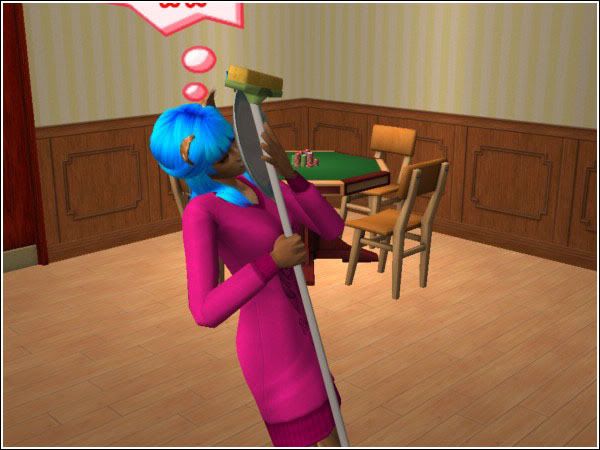 Jenga: It's cool. Hank and I are planning to elope when I drop out. He's a rich man, I don't need an education.

-Good luck with that-





Jenga: Mmmm. Hank.





Dormie: HALP! I'M TRAPPED!
Scrabble: Bulshit. Just move between the chairs, you lazy sod.





Dormie: Oh, you're right, that was no effort.
Scrabble: Told you.





Dormie: Oh shit, I'm trapped again!
Scrabble: Move the chair your own damn self!


As expected, Jenga was the first sim to end up wetting herself. She even beat the idiot dormie who can't figure out walking behind a chair. Now that's something special.





Buckaroo wanted to own a toymaking kit. He'll be making bricks for a long time.





The younger boys got through their "studying stress" (if that's even possible when you don't study) by hitting each other with pillows, possibly affecting Monopoly rather badly.





THOSE EYES. THOSE DEAD EYES.





With skills and grades up, there was plenty of time remaining to find Buckaroo a fair maiden.

After much wandering, we found Eliza Florence (
memiva) strolling about!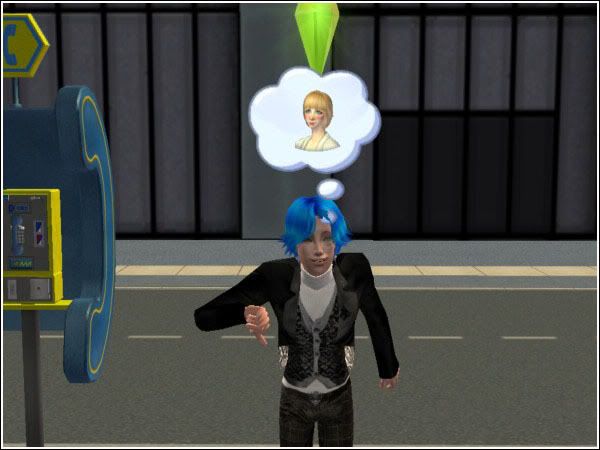 Buckaroo: Booo! She has a face not worth spanking!


Fine, you picky bastard, she was the only marriable pixel_trade townie I could find after walking across so many community lots, We have no choice but to approach miss Matchmaker!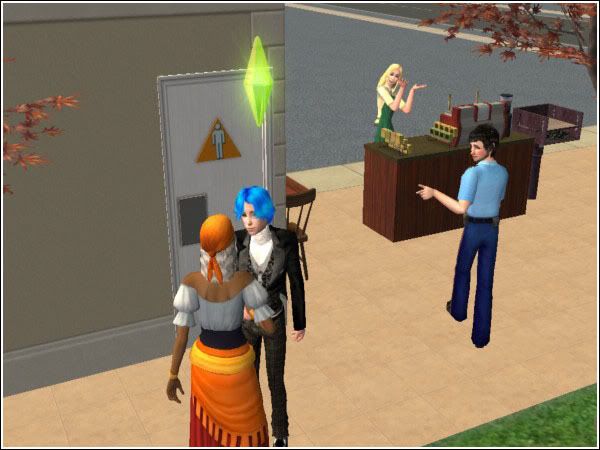 Of course, Newman (
slyndsey) would walk past afterwards. Seems to recognise Buckaroo as his BFF's son too. But too late, already paid the matchmaker a good 5k, the most money that was in the Toybox bank, for a great lady.





And what we recieved was...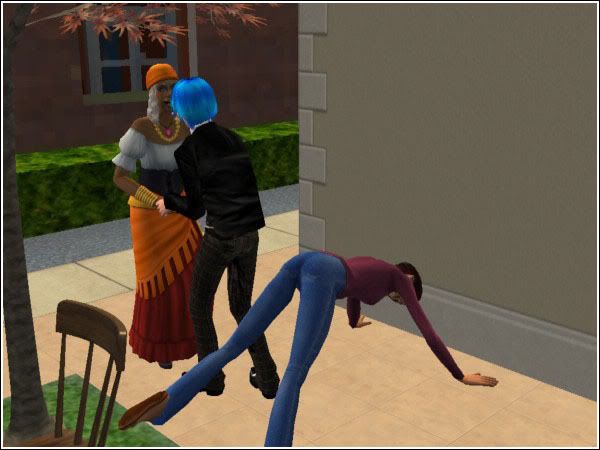 ...An Eaxis default. Buckaroo just spent all the money he owns for a potential wife and you give him a sim he can't even marry into the legacy! GOOD JOB, MATCHMAKER.


*sigh*. More searching for him then. Thankfully, the next place he went to, Skylar Bradley (
keoni_sims) was there.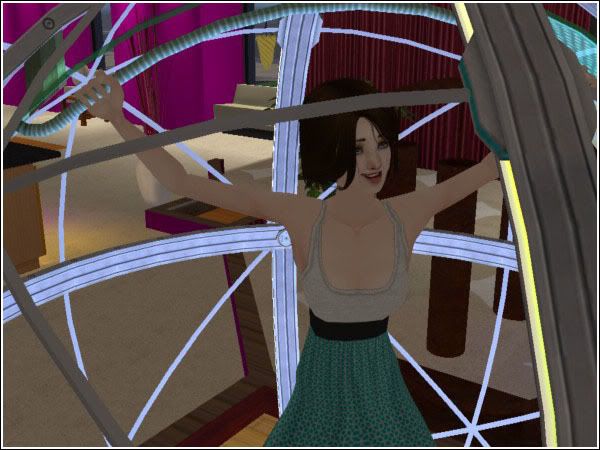 Please tell me you like her, Buckaroo, I can't afford to spend another 5k on another matchmaker appointment.




Buckaroo: Eh. She's average at best.

That's probably the best reaction you've had to a potential date. GO! GO! GO!




Good little gentleman.

His attempts to impress her included kicking her in the crotch to prove that women don't feel the same pain men do.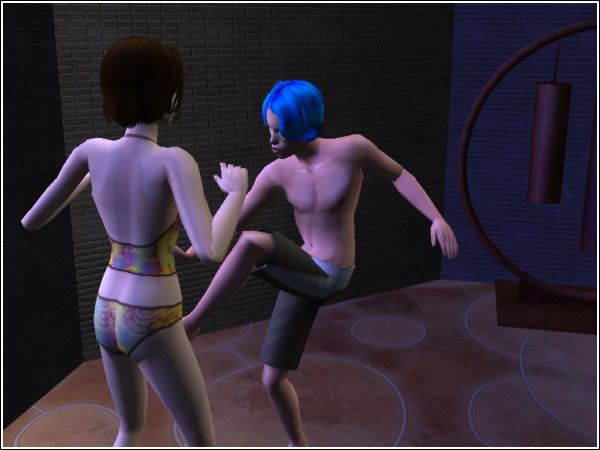 OH HAI CRUMPLEBOTTOM.





Crumplebottom: THIS IS A JACUZZI FOR CLOTHED PEOPLE!
Buckaroo: GOODNESS ME ONE IS ASHAMED!

I realised that unlike previous heirs, Buckaroo had not yet shown interest in a specific major. When he got home he declared Political science, which for some reason requires him to make kissy faces in a mirror. Probably intends to be one of those slutty politicians, I dunno.





Dormie: Fine. If you're going to ignore me I'll just dance until you let me out. How do you like that, huh?
Scrabble: Sure, go ahead.


Buckaroo went swimming when the resident streaker invited himself over.




Buckaroo: Use the ruddy ladder you bare-arsed ruffian!





Buckaroo: Heavens above, you're Jesus!





Scrabble: Oh bless you, not wanting to hurt me.
Cluedo: Of course, you're my little sister.





Scrabble: BLAM!
Cluedo: Bitch!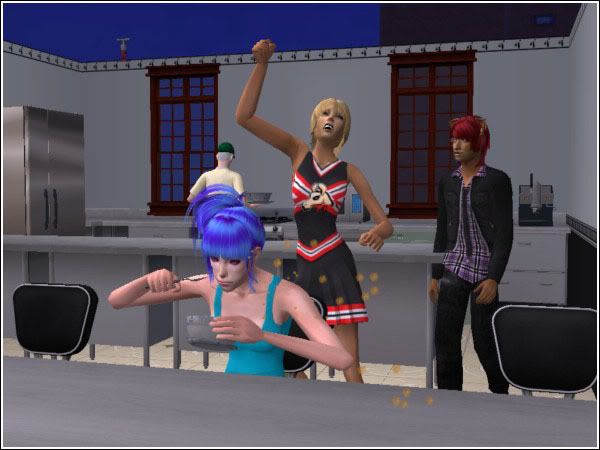 Cheerleader: Yeah girl, you eat the fuck outta that mac and cheese!





Cheerleader: Not you. Your method of eating mac and cheese is stupid.





Jenga: Bitch, my method of eating mac and cheese is fabulous!


AND A BITCHFIGHT BEGINS.




Scrabble: Does anyone's pulse feel slower than normal?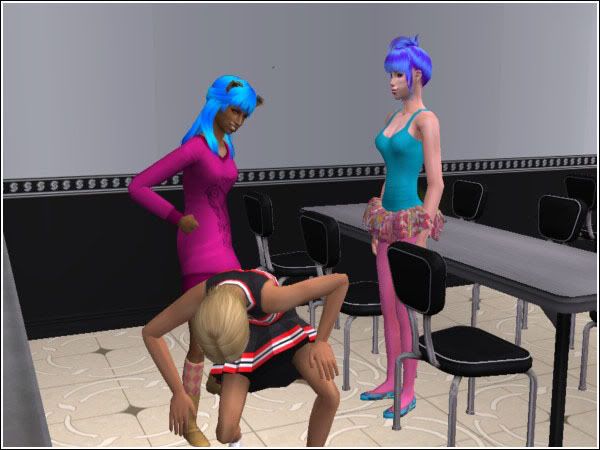 Well done, Jenga!


Buckaroo went on his first date with Skylar. The first thing he does is completely ignore his date to eye up other women, including Sophia (
flari).




Buckaroo: Again, average. The catlike aesthetic reminds oneself of one's grandfather.


Then Kiribati Apia (
zip_itsims)




Buckaroo: Now That is a fine derriere worth ravishing.





Skylar: Not gonna lie, I'm just trying to date you to get to your mum. Now she's a hot piece of ass.





Buckaroo: Then here's to us being more attracted to other people.
Skylar: Cheers.





Buckaroo: How does one wish to ravish thee? Let one count the ways.





Kiribati: I don't mind which way I day, as long as I die rich.
Buckaroo: Me too! :D


For an uncontrollable, Scrabble is actually doing okay. I think she's just worrying about getting disease from public toilets, I dunno.





Monopoly certainly has nothing to worry about. He's just gained maximum creativity skill! That's impressive even for a controllable sim! The stink gas just proves the dedication.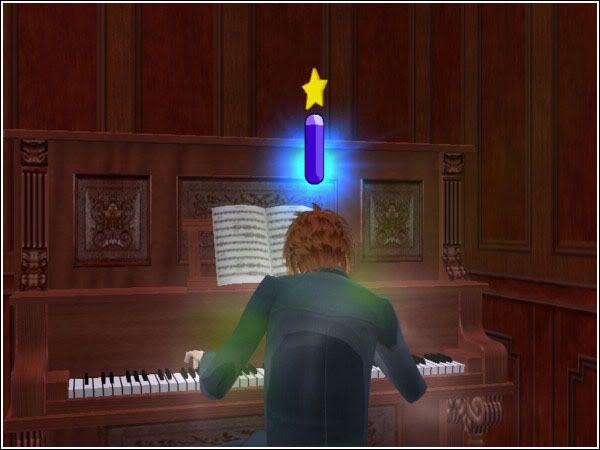 So Buckaroo went on a date this time with Kiribati.




Kiribati: So hey, call me.
Buckaroo: But we've just arrived!


Sadly thanks to some very incompetent waiter service, Kiribati decided Bucakaroo was a bad date and left.





And Buckaroo found himself waking up next to someone he different to what he'd planned the next morning.





Safe to say, it left him depressed.





That cafeteria worker really doesn't give a crap.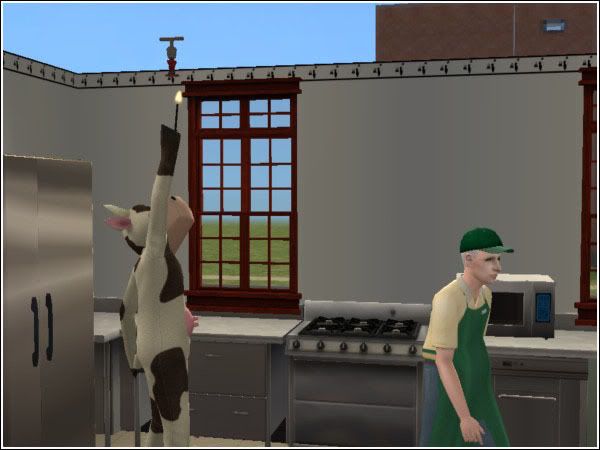 Mad Cow: WATER! OH GOD WATER! NOOO!
Cafeteria Worker: No shit, you initiated the water.


So after the disappointment of that date, Buckaroo went on another look for a nice woman. And laugh at vases.





He wasn't particularly subtle about his distaste for the women he found. There was Evangeline Rose (
lilith_sims).




Buckaroo: Sorry, you're not one's type.
Evangeline: Um... did I even ask?


...And then later...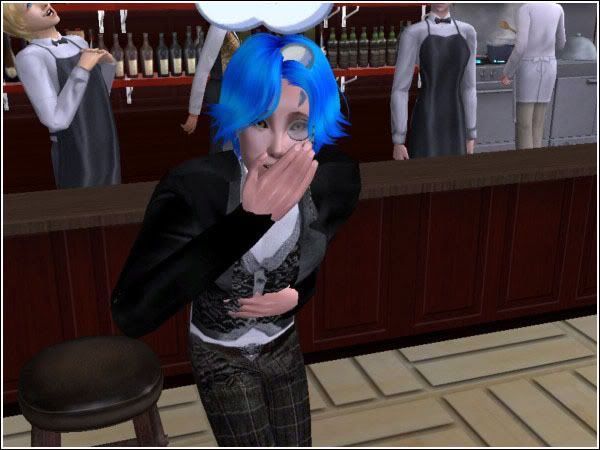 Buckaroo: Ugh.





Buckaroo: She's repulsive!
Aisling (
kathsy): You do realise I'm looking right at you? Prick.


After much exploring and failing to find a marriable townie he admired as much as Kiribati, to his surprise he found the same wandering around a nearby spa. Let's just say he was relieved.





And assuming Kiribati was going through the same problems as they sorted out their differences and reconciled (not like they were official anyway of course. They only went on one date. Then again, one date in simsland seems to be like 8 months in relationship terms).





Ever since I placed vending machines in the corridor, snack food and fizzy drinks was the only thing the spares would eat. In fact, eating snack food was the only thing they'd do period.





What made this even more stupid was that they didn't even seem to actually like the treats.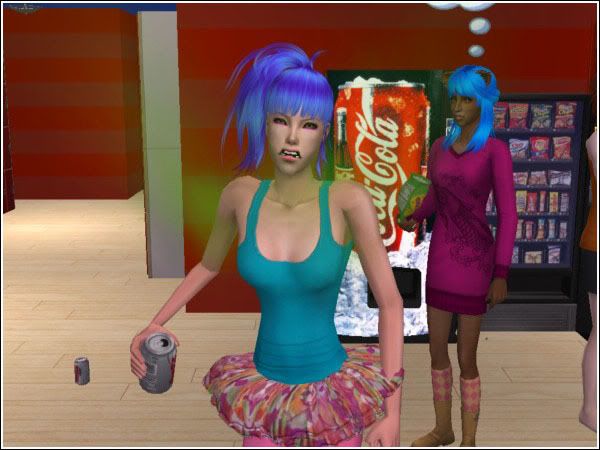 She pulled this expression after every mouthful.


First it was the dormie, now Llama-man can't seem to work his way around a chair. Seriously, it's not hard.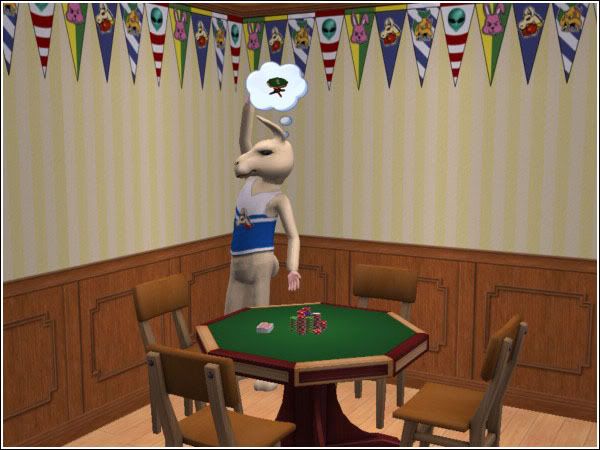 After a day or so he eventually starved to death.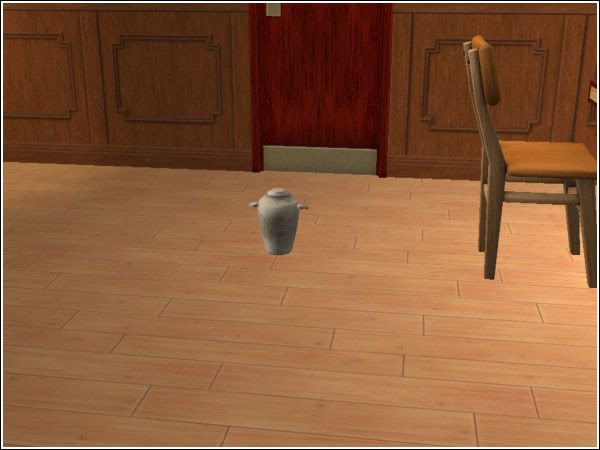 "Trapped" Dormie: Are you kidding me?! It only took him a day to die and I've been stuck here for 3 and a half years!


As the kids progressed into their senior year, Buckaroo had a quick issue he had to resolve.




Kiribati: Ooh!
Marta (
backerbse): A black box you say?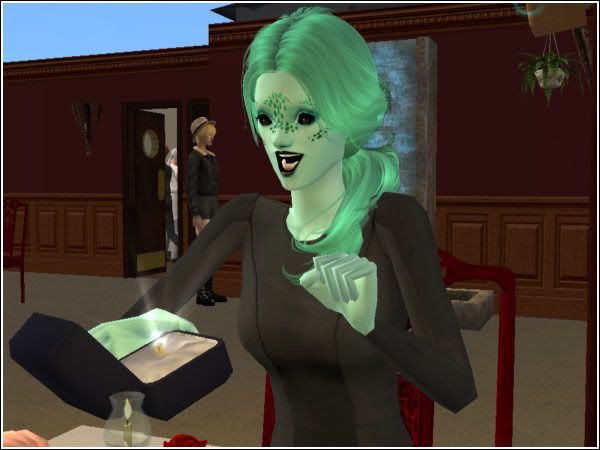 Kiribati: HOLEEE SHIT.
Marta: Eh, was better when it was just a box.


FINALLY. I was starting to think that girl was immortal.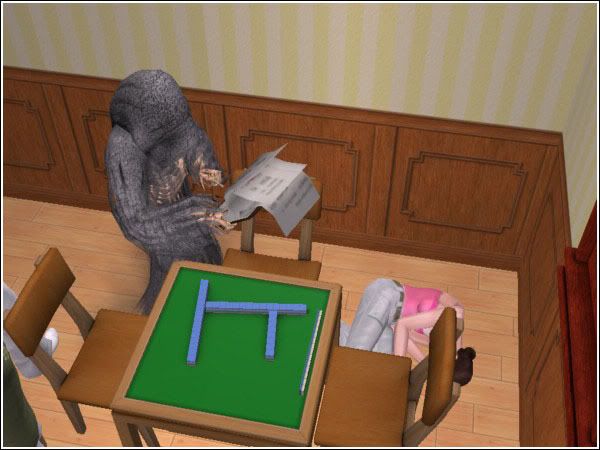 Buckaroo reacted with sincere sympathy.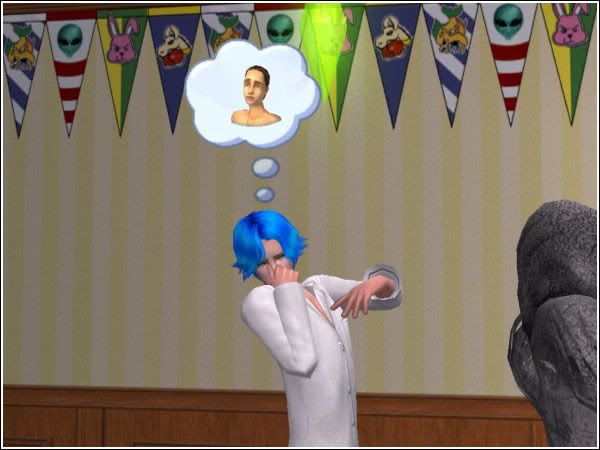 Buckaroo: Good grief, she smells foul!


Now that both idiots who can't figure out their way around something simple have gone, a few of the spares took over as the idiots who can't figure their way round something even simpler.




Scrabble: EXCUSE ME BUT THIS BAG OF CRISPS IS IN MY WAY CAN YOU MOVE IT PLEASE OH BTW I'M STARVING TO DEATH BUT THE CAFETERIA IS BLOCKED BY A SODA CAN.





Cluedo: There is absolutely nothing in my way! How do you expect me to get past nothingness? Do you expect me to know everything?


No surprising that the ones who can't figure their way round a speck of dust would also be the ones to be put on academic probation for the final semester.




Cluedo: Aaaw. ):





Scrabble: OHOHOHO THAT'S HILARIOUS!


Don't know why Jenga's all depressed, now she's not the only one lagging behind.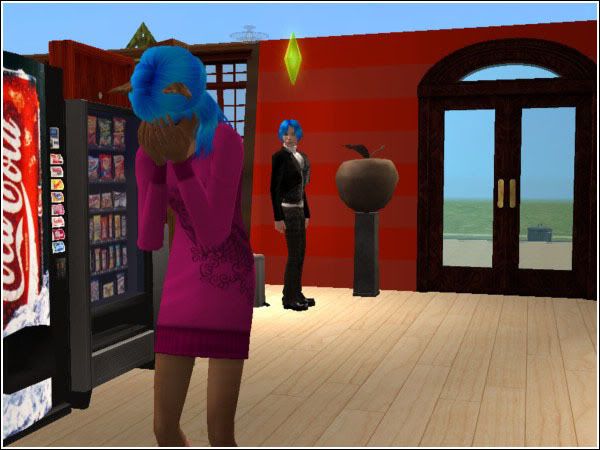 Buckaroo: Oh do man up.







Robed Intruder: I can't help but notice from my hidden camera that you like to write private details about your life in a diary. Why don't you join my special club?



So Jenga had a bitchfight with the surviving dormie. Sadly, I didn't manage to get a photo as I only noticed last-minute. But she won. Jenga's a badass.





And soon enough, it's all over!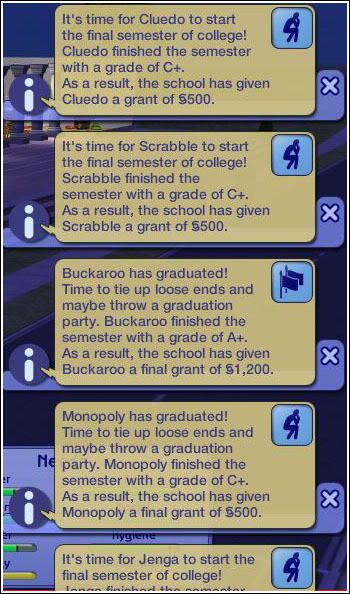 Well, not for Cluedo, Scrabble or Jenga. Monopoly was the only spare to make it through without any problems. I feel like I should give him a prize.

But anyway, it's time for our heir to age up and leave those who are still a term behind.





Good luck, kids.

PREVIOUS UPDATES:

1.0|1.1|1.2|1.3
2.0|2.1|2.2|2.3
3.0|3.1|3.2|3.3
4.0|4.1|4.2