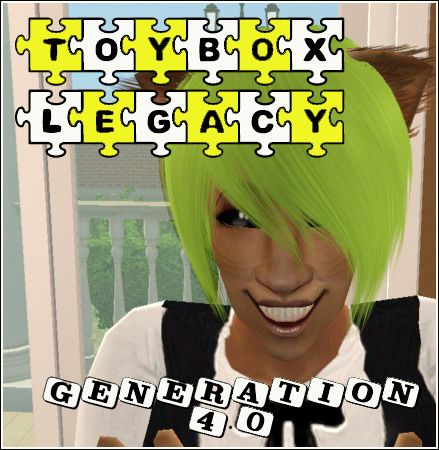 And so begins Generation 4!

Featuring sims by
novusars,
slyndsey,
tehhilz,
marvelann,
alexination
PREVIOUSLY ON THE TOYBOX LEGACY...

Half the household were too lazy/stupid/stubborn to consider eating ready-cooked food despite constant complaints that they were slowly starving to death.
Nose Marie proved to be the most competent of the children by being the first to actually be the top of the class.
Santana aged to elder, pissed herself and died.
Applejack aged to elder and didn't do much after.
Everyone moved back to the beach where they became so broke their maid stole a lamp.
Bright Eyes threw tantrums.
A mysterious cloud of smoke began steaming from Cooler's shoes.
Mr. Noe Whiskers (
novusars) became Supercat Captain Hero!
All the kids who hadn't already aged to teen ready for University


Mr. Noe Whiskers: One day son, all this will be yours.
Cooler: Awesome! Does this mean I'm the heir?
Mr. Noe Whiskers: God no, it just means that as a spare you'll probably be placed on academic probation meaning that you and your other two siblings will be abandoned here until you're 30 once the real heir has buggered off with a spouse and degree.
Cooler: ...Shit.


So yes, Generation 4 begins and the Pound Puppies (Kitties?) are at University! Before we announce the heir (who we already know isn't Cooler... sorry kid) lets see how they aged!

Cooler





Nose Marie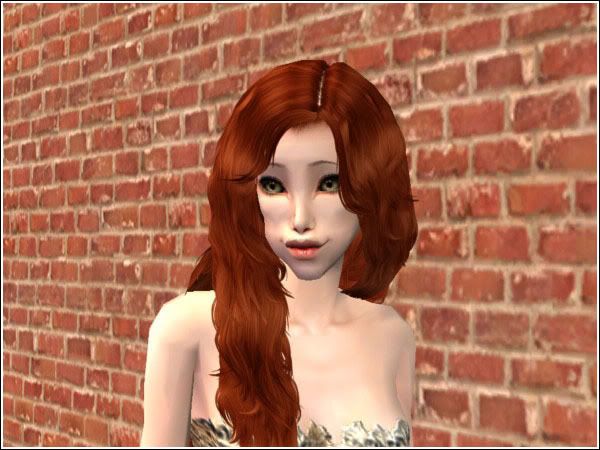 Bright Eyes





And Howler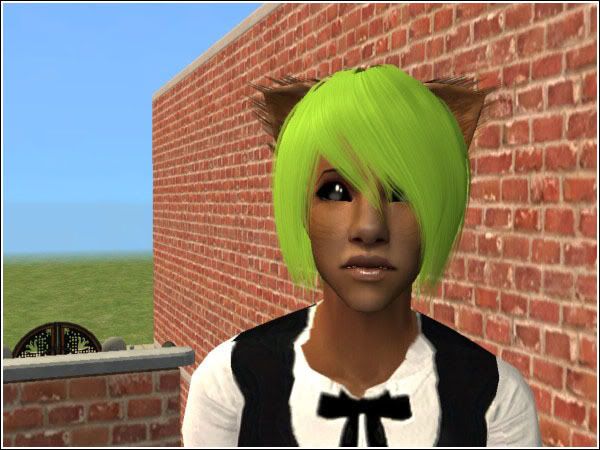 And the heir is...

NOSE MARIE!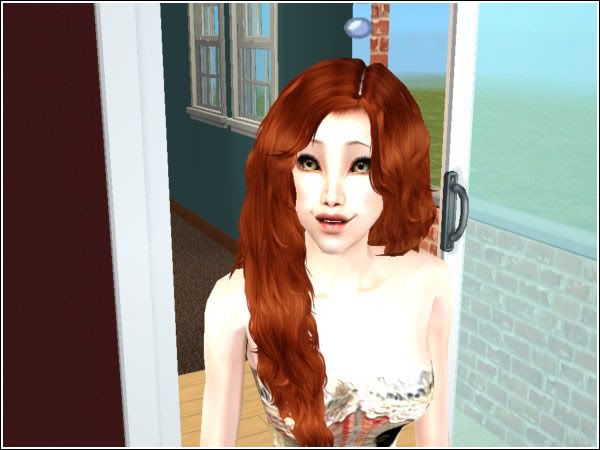 Nose Marie: You chose well!





Bright Eyes: So, now what? We're pretty much useless now right?

Sure are. Like your father said, you're probably going to be placed on Academic Probation and left behind while Nose Marie graduates.


That said, I am going to give you a head start and use your one command to boost up your skills. That's right Howler, you talk to your nyanpire reflection.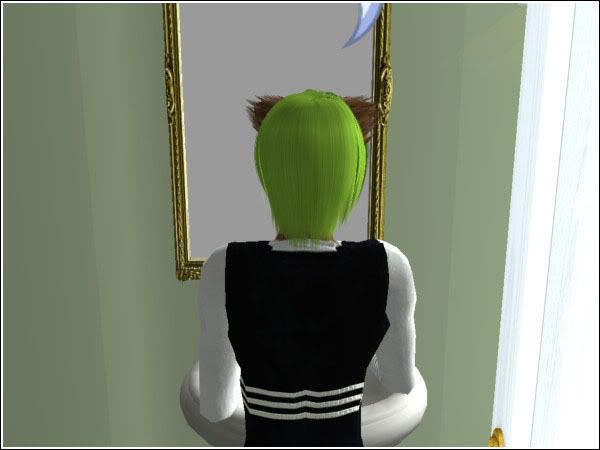 All while Nose Marie spies on her neighbours.





And helping her siblings more by making them play chess, while balancing candles on her head like a crown...





...And watch TV. Because in this universe, watching Azumanga Daioh apparently affects how well you can cook.





Bright Eyes: Oh god, please don't tell me this hideous sap is who you're going to make me marry?

Don't worry Bright Eyes, you're a spare now. You can marry whoever you want.

Aaw, why so sulky, Howler?





Howler: Maybe the sympathy sulk will make sim!god change her mind?

Sorry, the readers have spoken. If it makes you feel any better you were a close second in the poll.

Dormie!Walkby! Hi Lola (
slyndsey), why couldn't you be one of the dormies that just took the spare rooms?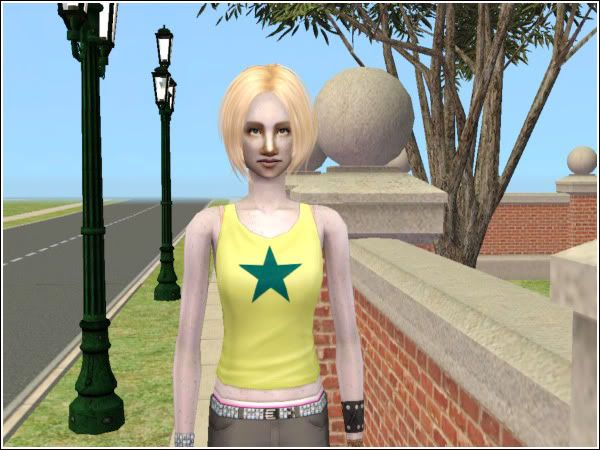 Lola Kalam: I'unno.

Bad timing since she came just before I got the "class starts in an hour!" popup. Just greet her and hope she stays and talks to the other dormies until everyone gets back.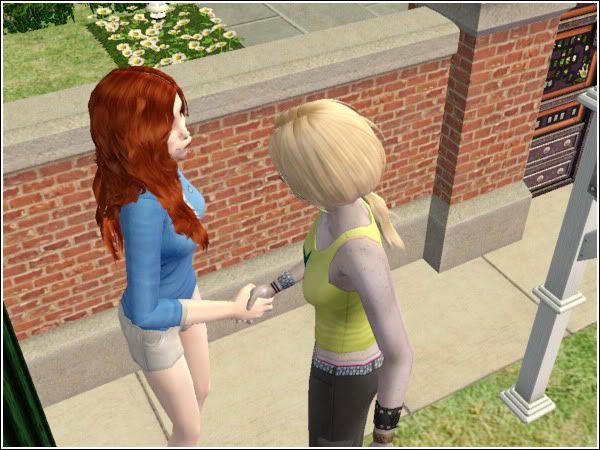 She didn't.





Cooler: I'M HUNGRY AND IN MY PANTS!





Cooler: Oh, hi Emblem (
tehhilz). How's things?
Nose Marie: This is my room. My face is on the door.





Cooler: I'll totally sign your petition to bring back Crystal Pepsi!
Nose Marie: I'M SLEEPING.


Howler got chatted up by a cheerleader.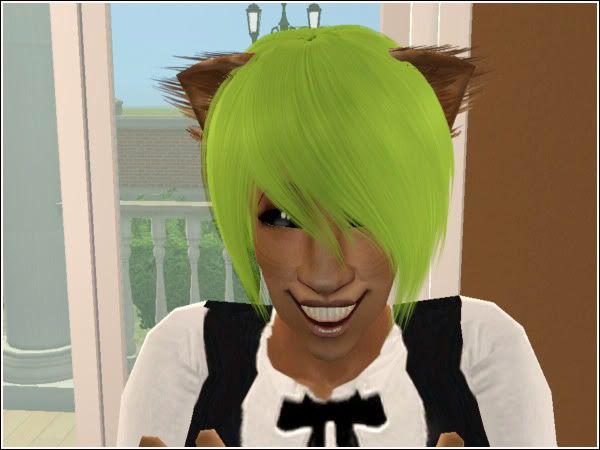 Howler: It's like a horny young man's dream!

However, a rival appeared...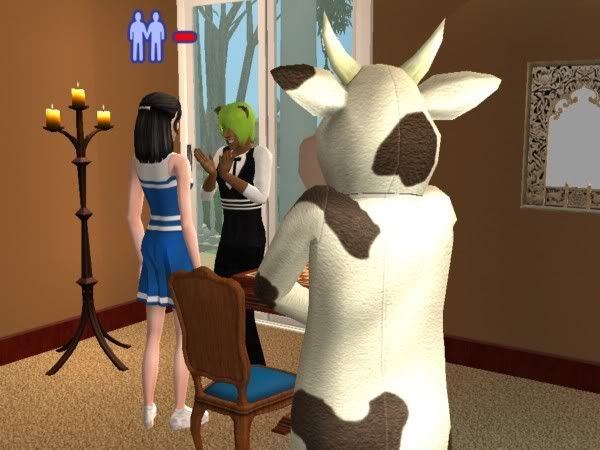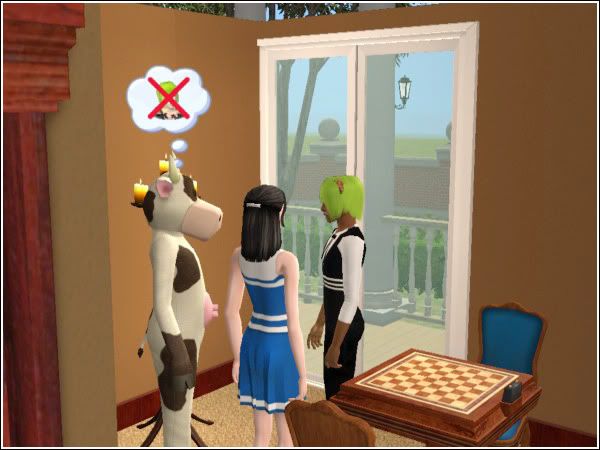 Mad Cow: You vaguely resemble your older brother...





Mad Cow: Therefore, it's totally justified that I beat you with this unusually-sharp-ended pillow!





Howler: You blinded me!

CHEERLEADER REVENGE!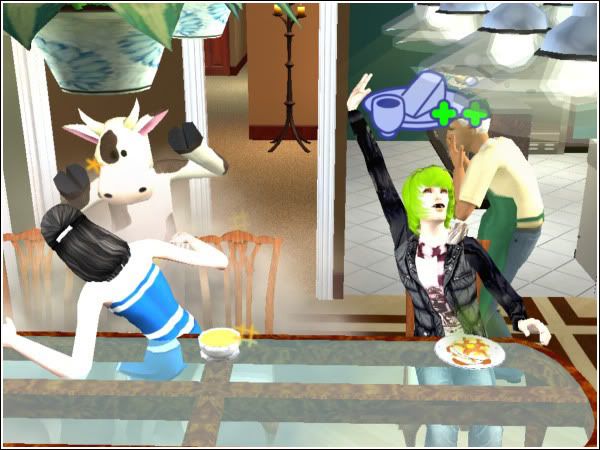 Cheerleader: LEAVE MY BABYDADDY ALONE!
COOLER: WHAT THE HELL IS GOING ON!?


Nose Marie went out an explored/look for a babydaddy of her own, where along the way she was invited to watch TV with Oni (
marvelann) and some random townie.





Oni: I can't help but notice we have matching boots!


Which turned into dancing...




Nose Marie: Eeh, no. I changed my mind.

I sort of feel sorry for poor Oni.




Townie: Heeey~ sugartits, would you be willing to give me a peck or two?
Oni: Would I?! :D


Hello Travis (
slyndsey)!





Another attempt at finding love? Or at least a friend.




Travis Yowling: I can't help but notice we both have red hair!

He then proceeded to raid Nose Marie's room and dance to her radio.




Nose Marie: Normally I'd tell you to get the hell out my room but... to hell with it. *Boogie*

Is the middle of a small, occupied kitchen area really the best place to exercise, Bright Eyes?





That's right, go and pester Travis instead.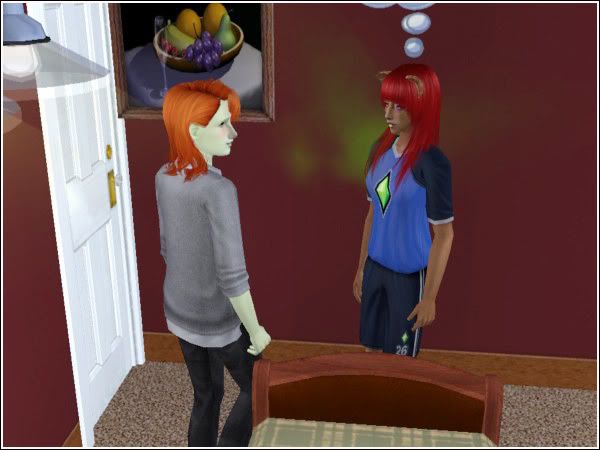 Bright Eyes: Well, he is an improvement on that last twat.

Mad Cow never left.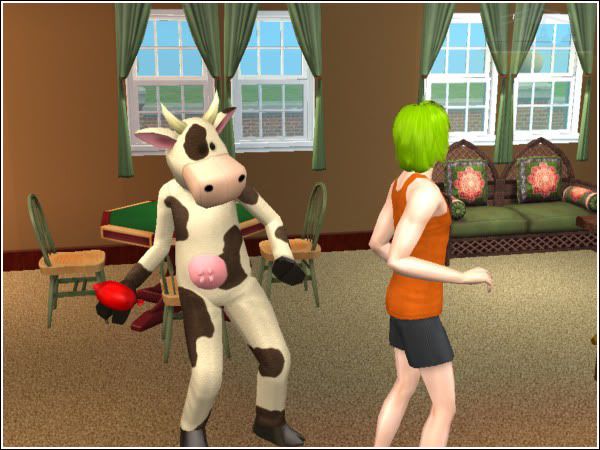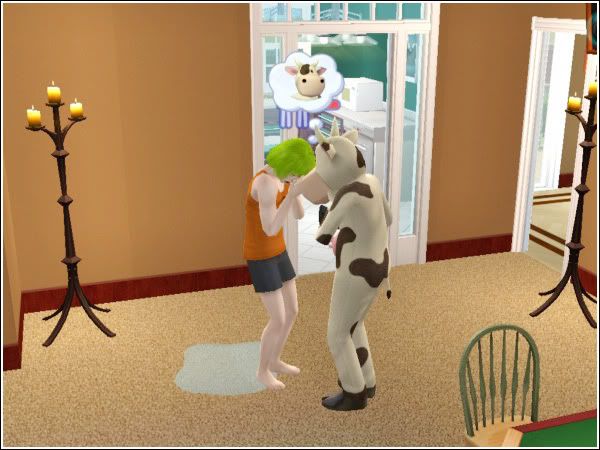 Cooler: *Sob*





Is this love or is she just biting her?


Nose Marie went out once again and found herself immediately attracted to Lorin (
alexination).





Brandi LeTourneau refused to move out of the way meaning the other two girls got to know each other through by talking to her legs.





They got to flirting once she went home.




Nose Marie: Your hair matches the sky... and the swing bars!
Lorin: Ooh my. :D






That was pretty quick considering they've only just met.

The bubble blower I bought is really keeping the spares quiet.





Okay, maybe not all the time.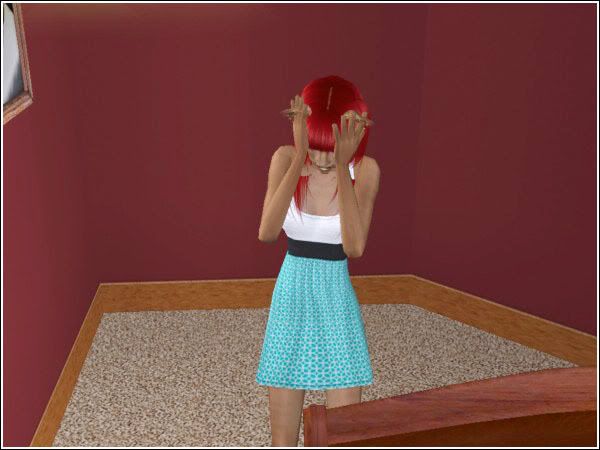 Nose Marie went on her first date with Lorin.





Not much else happened so let's just skip to Lorin being invited home.




I'd say something about how it's only the first date, but I'm a University Student myself; I've heard all too well of my fellow students having sex on the first meeting, let alone bothering with a date. Then again, such occurances are usually what we call "Drunken one-night stands".





Nice wink you've got there, Nose Mar- wait, is one of your eye sockets empty!?






IT'S. THE. FIRST. DATE.





They've known each other for about a day. That's a whirlwind romance even by sim standards.

And cue interruption!




Bright Eyes: Hey ladies, just using this phone while you make out with each other because the one in my room is too ignorable.
Cooler: May I come in too?





Bright Eyes: All this underwear-snogging is making me want to pee!


Yes, the non-Pixel Trade dormies are still acceptable targets. They deserve it, they're annoying.




Nose Marie: Hey gorgeous, me and my lingerie-clad fiancee will gladly make out in front of you if you look at my palm for a moment.
Dormie: Now this is why I applied for college!






He seems to be secretly enjoying it.





Howler perfecting the whole sleeping standing up routine.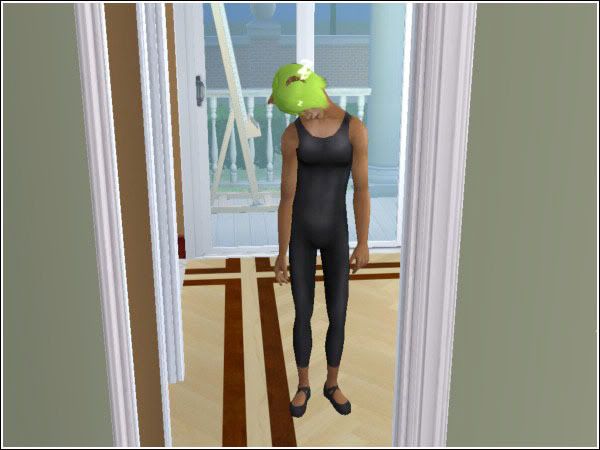 Same goes for Bright Eyes





The latter was too busy sleeping to actually attend her exam. Still better than missing school because she wanted to be a pirate.





(That philosophy class must be packed, everyone seems to get directed there)





Bright Eyes, nooo!

What with everyone rushing in to either cry or beg, that tiny little bathroom was like a sardine can.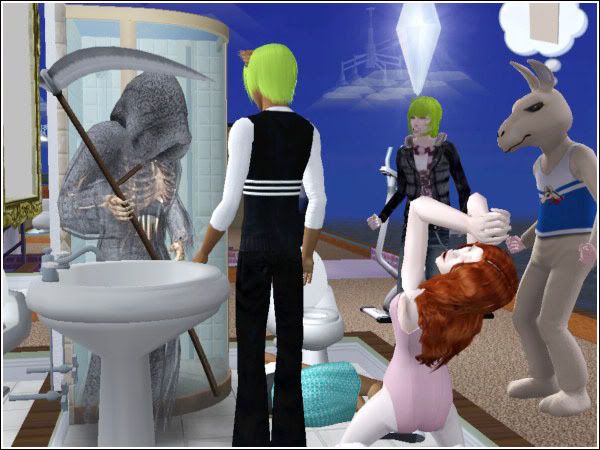 Sadly, Bright Eyes didn't make it.


After that bit of drama, Howler continued to struggle to take care of himself.





He's an official Toybox now (And I'm pretty damn disappointed that the whole using-the-toilet-incorrectly thing has happened so often it's like a family tradition).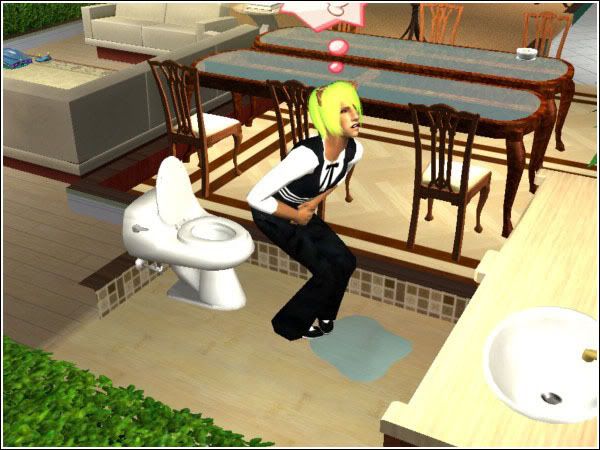 Traumatised!




Cooler: MY EARS HURT! *Sob*


Cooler and Nose Marie slept in the same bed for a couple of nights. I wouldn't be too worried if it wasn't for the faces they made together:




It just screams perv!face. Which, considering they're siblings, is truly a horrific thought. D:


So, to remind herself that she shouldn't be doing her own brother (ew) Nose Marie went on an unseen-because-little-happened date with Lorin, where in return, she gave Nose Marie this thing:




That thing blocks almost the entire doorway. At least it shows she's loaded. Or incredibly reckless with her money.





The thing that peeves me off the most about that was that Cooler actually sat down on the toilet, only to stand back up purely for the purpose of wetting himself. The stupidity astounds me.

Even more so considering...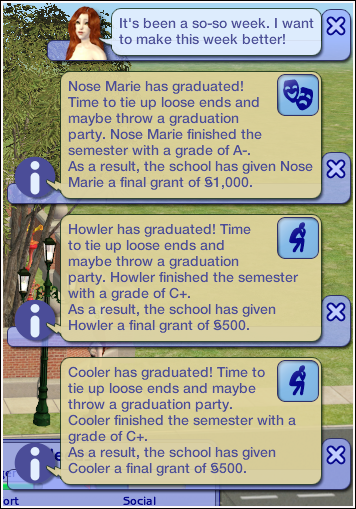 ...Not a single spare got placed on Academic Probation for the entire stay at University. That said, Bright Eyes still died. So taking that into account, still not that impressive.


But still, time to age Nose Marie ready for her new life as heir! Until next time!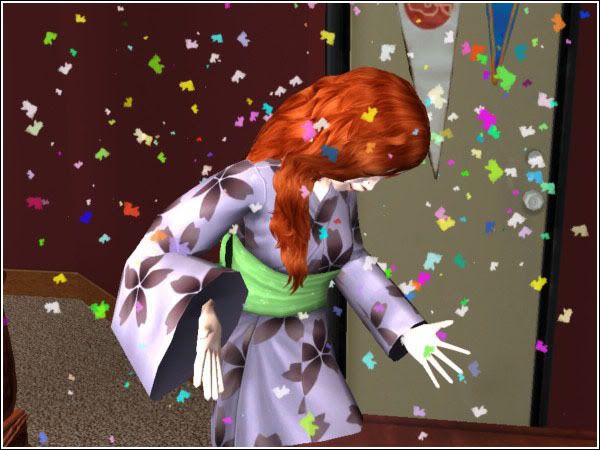 PREVIOUS UPDATES:

1.0|1.1|1.2|1.3
2.0|2.1|2.2|2.3
3.0|3.1|3.2|3.3