What's got Applejack so worked up? Click below to find out!

2nd Generation spouse by
smustleparty
3rd Generation spouse by
novusars

Featuring sims by
praedialsims,
maranatah,
lilith_sims,
cecile_k,
loveshinesims and
slyndsey!



PREVIOUSLY ON THE TOYBOX LEGACY...

The kids went to college, thus starting Generation 3.
Party Popple was announced as heir.
PC Popple is totally the sane guy.
Lots of cameos!
Thanks to good old-fashioned stalking, Party becomes engaged to Mr. Noe Whiskers (
novusars).
She also cursed an annoying cheerleader to be forever harassed by mad cow man.
And graduated while leaving her siblings, on Academic Probation, behind.


Yeah, once again the house got glitched. This time round they've been relocated to a beach!




But enough with that, it's time to get the Popple Noe Whiskers wedding started!




Nice to see Magda Dimtwit and Conor Morose (
praedialsims) and David Ribbit from my failed legacies joining in the celebrations.


Marriage!





Hello again, Lobelia (
maranatah), she's pretty much become one of those sitcom neighbours now.




Party: Too forceful?
Mr. Noe Whiskers: MMMPPPHHH!


After those celebrations, a nice new house was built.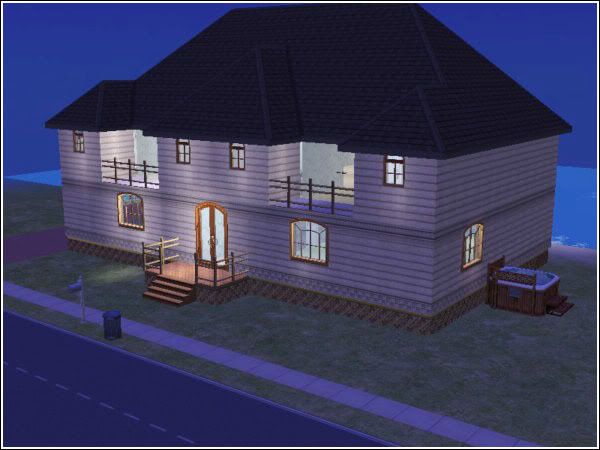 Not that anyone actually wanted to go inside, there is a beach behind it after all.




Applejack: Santana? Have you been buried alive?





Santana: I'm here!
Applejack: Our generation is over! Celebratory football toss!
Santana: Yay, no more children!


That's what you think...




Party: Make love to me under this sensual Lightning McQueen bedsheet.

Applejack and Santana finally get some well-deserved time alone.





So Santana could impale Applejack on her arms for making her put up with the hell that was ISBI child-rearing.





Too bad Santana, looks like you're gonna be a grandma!




Ah, pregnancy. The time where even the controllable "sane" sim still passes out in her eggs.




Apparently that's a bump that just popped. It's a supermodel pregnancy.

Let's just put her in something that actually makes her look pregnant.




Party: Aaw... I thought my demon powers had made the bump invisible.

Well, le's just put it this way, your demon powers mean that your bump disappears and reappears depending on clothing! Just look at when you're in your nightie skinny as ever.




Or the pregnancy loading screen. I don't even know who that woman kissing Noe Whiskers is..





Meanwhile, Applejack, being the good son he is, punched his mother.






Before digging a hole while she and Santana throw a ball at each other.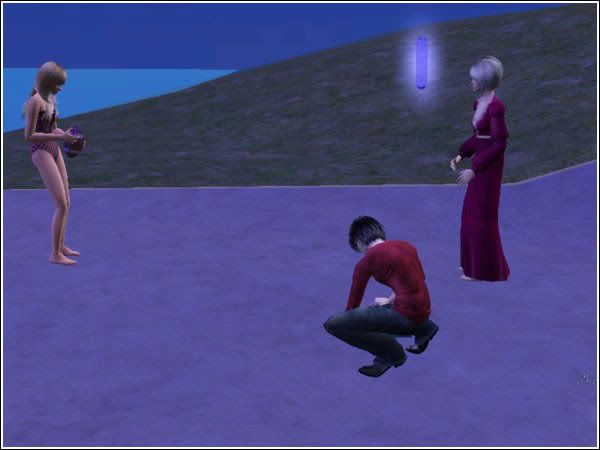 When they finally chose to have breakfast, Applejack reveled in the glorious smell that is lack of old woman.





Lego was still outside in her nightie well into the afternoon. Mr. Noe Whiskers went to keep her company after work.





Party went ahead with Applejack's portrait.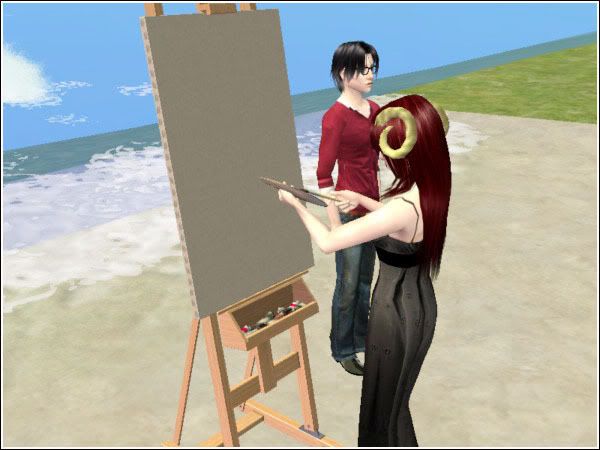 Visitor: So is this a public beach?
Party: No.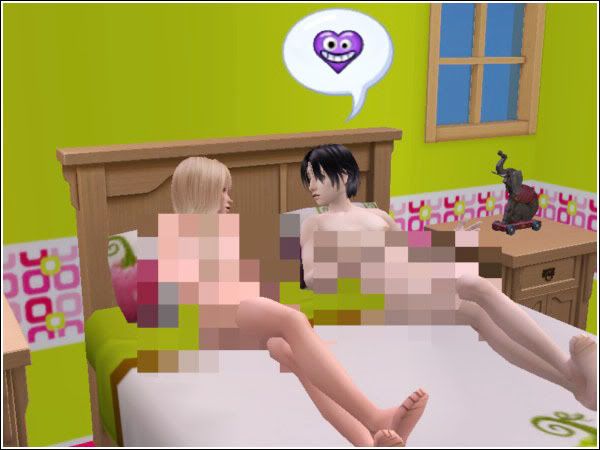 Applejack: So, sex?
Santana: Sure, why not?





Party: ...Huh.





Party: Who let you in?


Pop and orange pyjamas!




Applejack hated the job Party did on this portrait so far (Which dramatically changed due to, you guessed it, crashing. I sure hope the laptop I'm getting can run Sims better)




Mr. Noe Whiskers and Party relocated to Applejack and Santana's room. I think it's because it matches Noe Whiskers' hair.





Not that they slept for very long.





Well, at least not Party. Noe Whiskers was asleep through most of the birth.




Applejack: Damn your demon curse turning against you!
Party: SHUT UP!


It's a boy!





And the theme for generation 3 shall be Pound Puppies! (I know, I've been going for far too many cutesy toys at the moment. I'll probably go for something different next time)




So this one is named Cooler (What was this 80's kid's branding obsession with naming characters to point out how cool they are? First PC (Pretty Cool) Popple, now Cooler)

Admittedly this round is based more on the spin-off cartoon than the toys themselves since last time I checked, the toys didn't have names. Thankfully, there are still toys of most of the characters, so still counts:




That's Cooler in plush form. Yeah, the cartoon-based plushies weren't quite as adorable as the main plushies imo.





Mr. Noe Whiskers: So what now?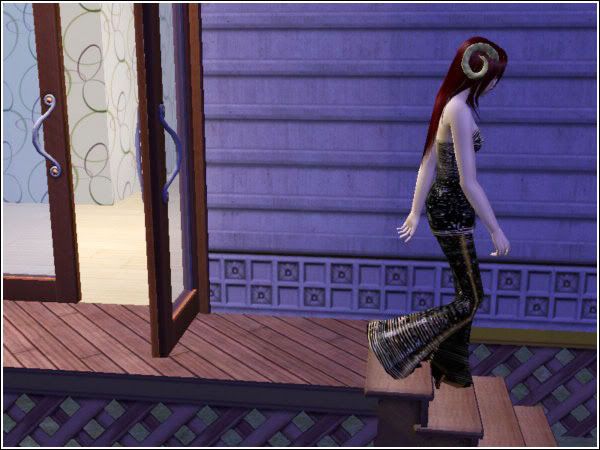 It just took Party nearly a sim hour to walk out the back door, around the house, up the steps and down the hallway just to get to the kitchen. It was either that or walking two minutes down the hallway to get the kitchen. You can't question sim-logic.


Noe Whiskers sunbathed all day. It doesn't actually happen too often here.




Santana, meanwhile was reviving her fantastic parenting skills with her grandson.




Party went with the old "Pick up a walkby and make them babysit" trick with Evangeline Rose (
lilith_sims)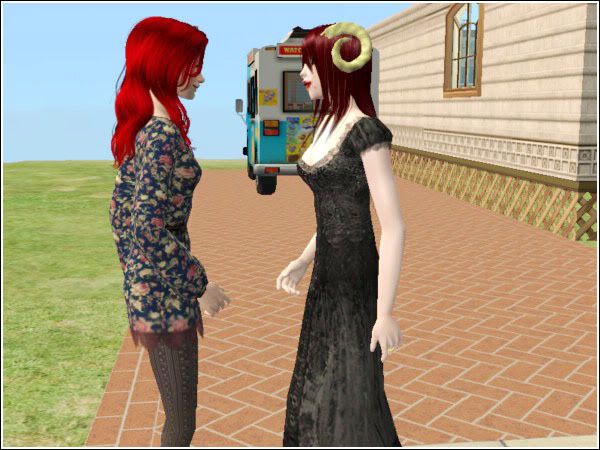 Lego had a visitor greet her from work.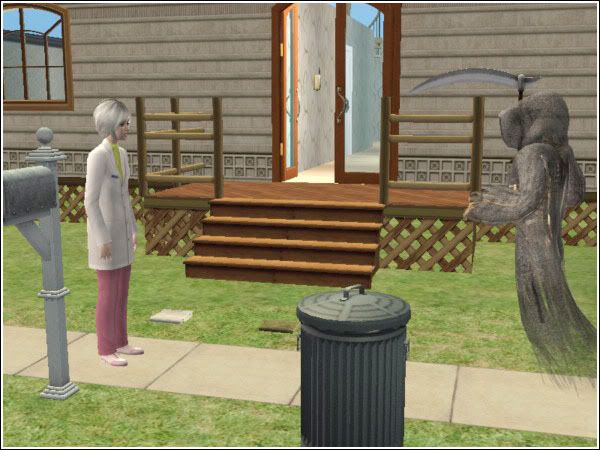 Grim Reaper: Hi there! It's time to go to the retirement home in the sky! We have exotic dancers and alcohol!





Lego: Oh come on! I only just got back from work! Can't I some tea first?





Grim Reaper: NOW.
Lego: Fine.



Philon: (
cecile_k): Well, that was depressing.

You said it, Philon. My founder, gone. RIP. :'(




Oh, hello Glados (
loveshinesims). What's with that scheming demeanor?





Hey, that newspaper isn't yours! What are you doing with it?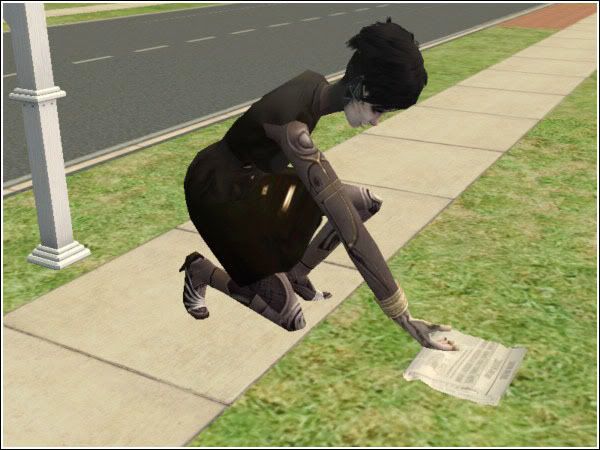 ...Ah screw it. No-one reads that paper anyway.

Applejack certainly didn't take Lego's death too good. Actually, he's probably the only one who noticed.





Go and mourn your dead grandma, Party!




Party: I don't wanna!





Evangeline: Are you even going to pay me?





Yep, it's starting to go downhill with Applejack.


Ass shot and funny feet!




Even with Party it's awkward. She's knocked up again and has followed the most annoying toybox tradition. Come on Party! You're a controllable! You're not supposed to be doing this!





Applejack: Leaving your son on the floor... it reminds me of when mummy used to to it! *Sob*


Applejack ill and starving to near-death and nothing in the fridge, I got fed up and decided to just order Chinese food. Apparently Chinese food causes Santana to merge within the counter.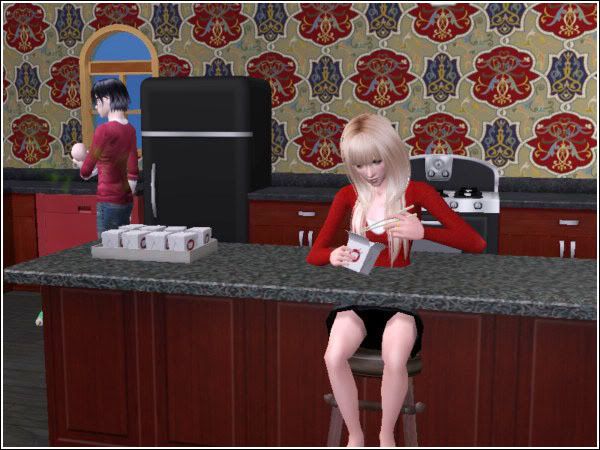 Applejack: Oh Cooler, I promise I'll be the best grandpa ever! Looks like you've been fed well!


Speaking of Cooler, later that day it was time to age up!




Everyone else was either asleep or still busy being dead.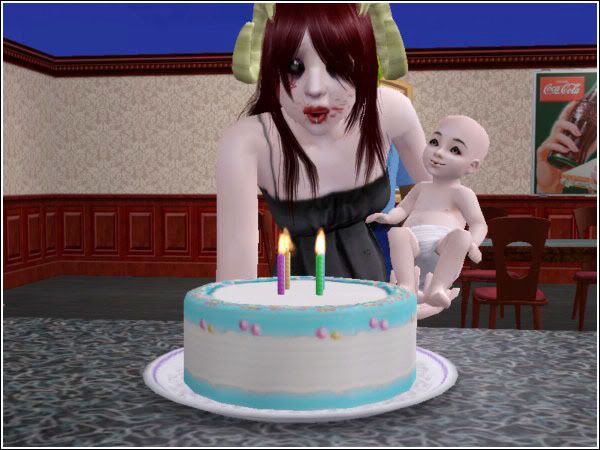 A slight creepy grin but adorable.





Applejack proving he's still not too sick to be making out with his wife.





And Noe Whiskers giving Cooler a bath.





And Cooler watching floating musical notes.





Noe Whiskers spent all day sunbathing again. It didn't end so well.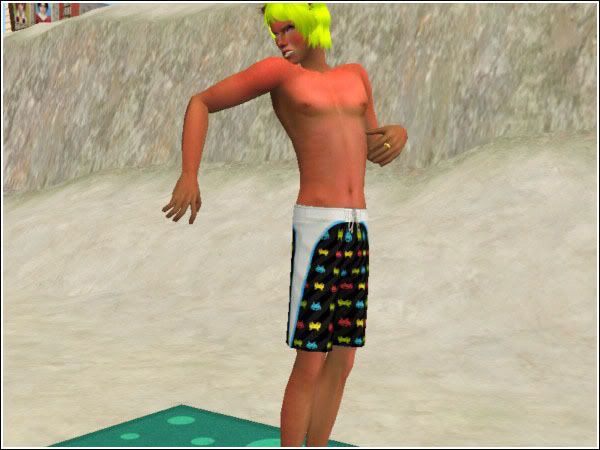 I feel no sympathy. She was complaining about needing the toilet for an hour and didn't even bother to move! I had to cheat a little and make her do a walk command just to make sure she wasn't glitched!

She redeemed herself by reading to Cooler.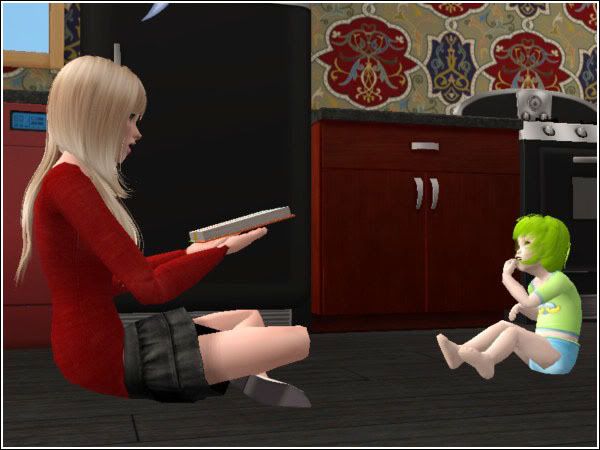 Mr. Noe Whiskers experiences his first sign of weakness in an ISBI. Won't be long until he's in aspiration failure.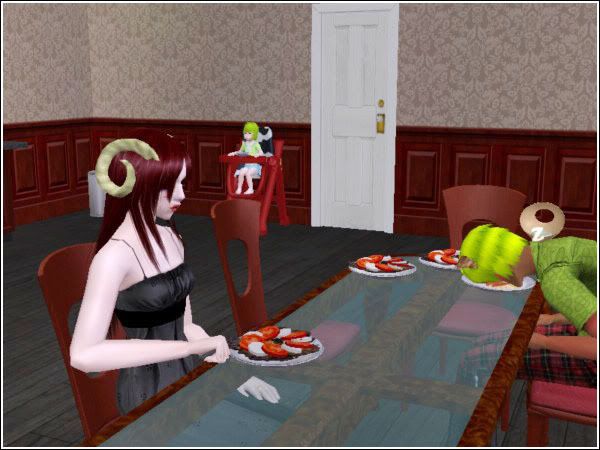 Santana later lectured to a wall.





Birthing time!




Santana: It's happening again! Oh god!


It's a girl!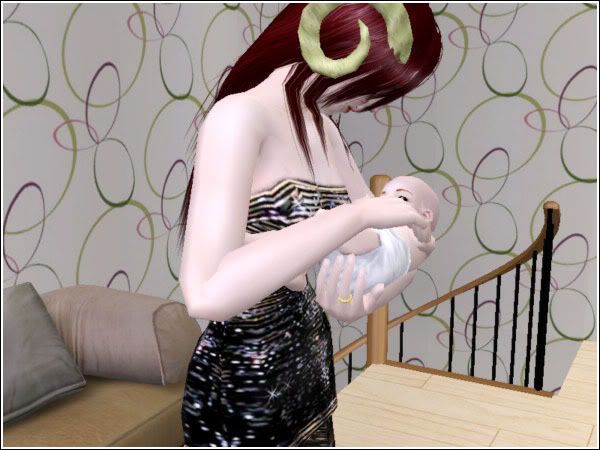 I shall give her the even-more-humiliating-name-than-Cooler-name, Nose Marie, after this girl.




And to think Applejack had just recovered. :/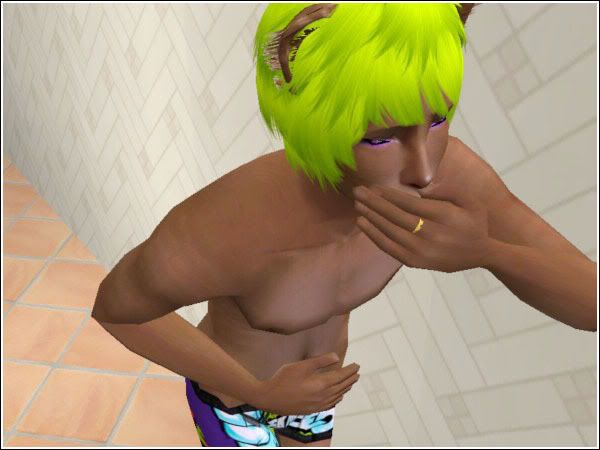 At least his sunburn's gone.

Cooler decided to fuse himself to Party while she baked.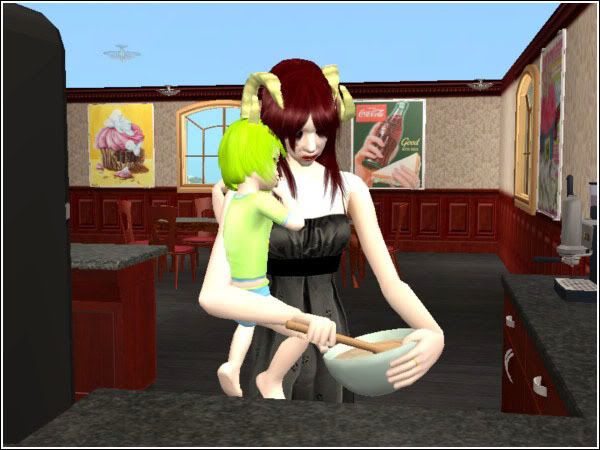 The brownies were so delicious even the maid stopped to have one.




Party: Get back to work.


The paper that the Toyboxes get must be one hell of a good paper if townies keep picking it up. However, unlike Glados, Newman (
slyndsey) decided not to steal it.




Applejack: Happy birthday, Cooler! You're a big boy now!


Thankfully, the real Cooler was eventually brought to the cake, Party insisting she blew the candles out for him.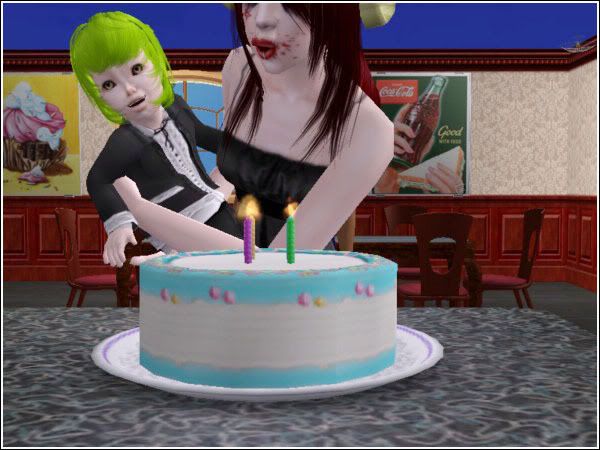 Party: Fly, my boy! FLY!


He turned out looking a lot like his father.




And we'll leave it at that! Hopefully I'll be able to update soon! Maybe...

PREVIOUS UPDATES:

1.0|1.1|1.2|1.3
2.0|2.1|2.2|2.3
3.0