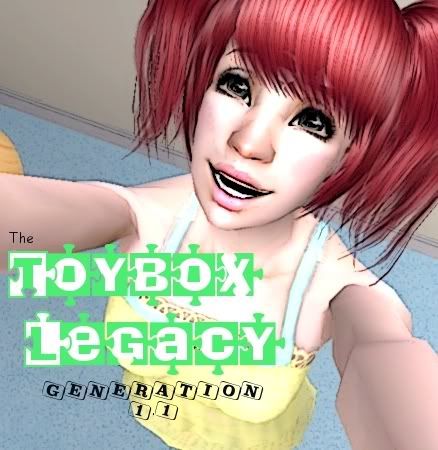 With sims from
brightgoldsoul and
dorkasaur!


PREVIOUSLY ON THE TOYBOX LEGACY...

We met our founder, Lego.
Most of the update was in low-res, of which Samuel September (
dorkasaur) was not impressed with.
Lego, being stalked by the Pleasantview defaults, ran away to find love, and came across Thermald Whitman (
brightgoldsoul).
Lego stalked and ate Thermald, but he oddly enough accepted her marriage proposal. Was probably scared.
After a new house was built, the picture resolution changed, all was fine and dandy and I had an excuse to post gifs of Kermit and Danny from McFly.
Samuel phoned Lego asking to take him back only for it to be revealed that... DUN DUN DUN! She's pregnant! And it's not his!
The newlyweds don't like tables all that much.

We begin with Lego burning the pizza.





Couldn't be bothered with ordering again.





Thermald is the only sim working at the moment.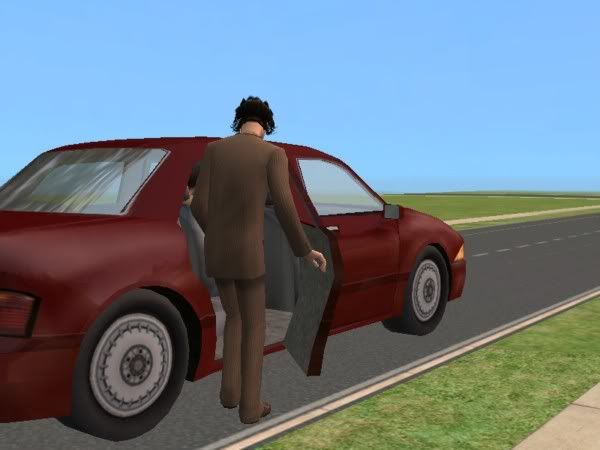 Only to return home back to bed where Lego was having kinky thoughts about the most ugly-looking townie there is on this game.





A few death glares should set her straight.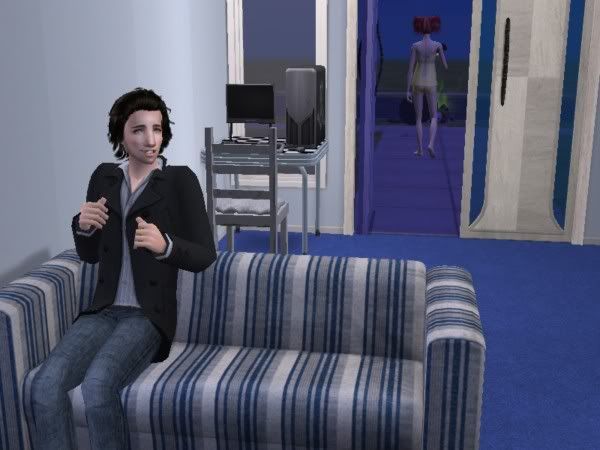 Thermald: She's gone. Thank god for that!





Thermald: I can do everything I ever wanted to do! Rent a gondola! Run through flower fields in a leotard! FREEEEEE!


Pop!





Now who wants Thermald fanservice?





*Whistle*





While Thermald was at work, Lego spent all day watching TV, completely unaware of what had hit her.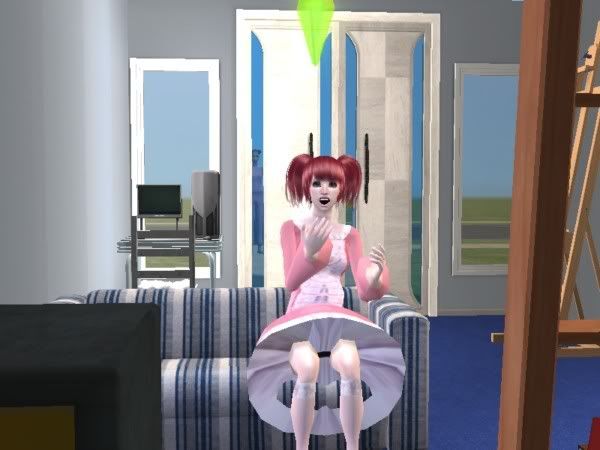 DUN.





DUN.







DUUUUUUUUN.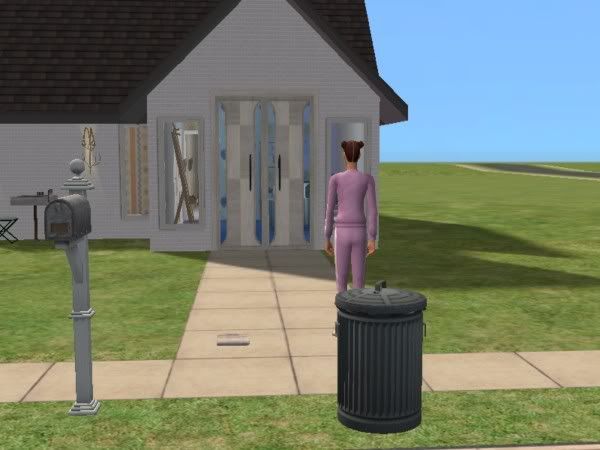 The plot didn't really thicken, she just wandered off after about half an hour. Probably trying to watch TV through the doorway.


When Thermald returned from work he wasn't amused to be greeted by Lego's dancing.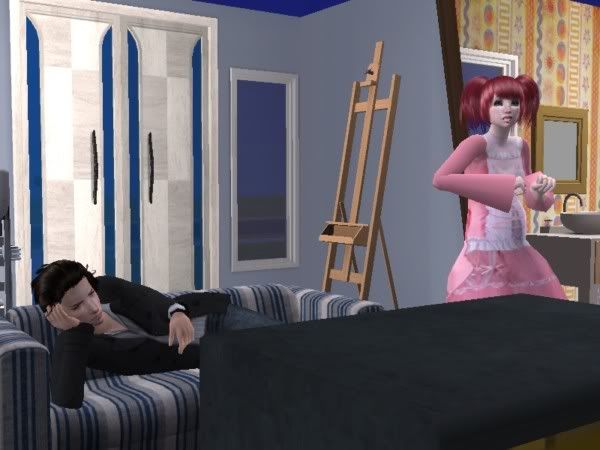 Lego: Oh hai, did you turn the music off mid-dance, sweetie?
Thermald: Crap.


SLASHER SMILE.





Lego ended up biting off three of Thermald's toes, a piece of his bumcheek and a kidney, then made him sleep on the couch.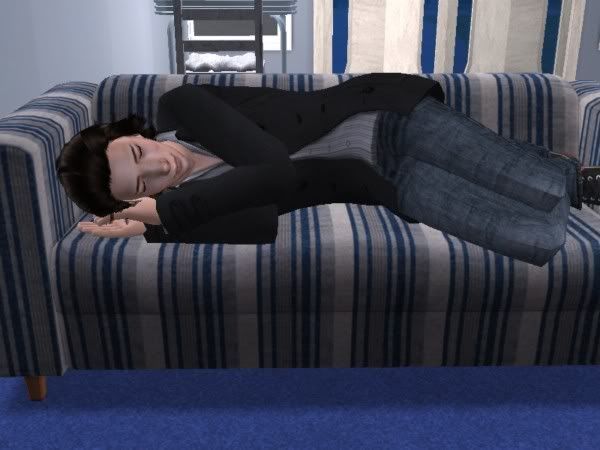 Not that he cared that much.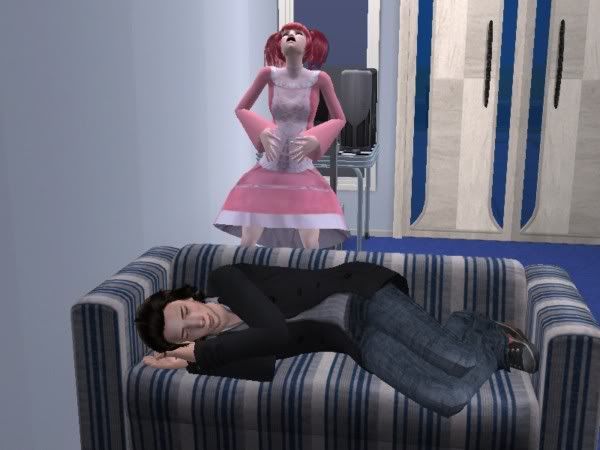 Lego: I'M IN FRIGGIN' LABOUR!
Thermald: *Snore*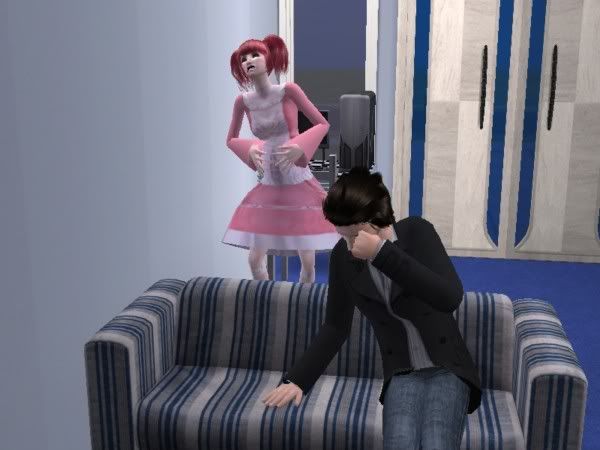 Thermald: Alright, alright, if you must make such a row...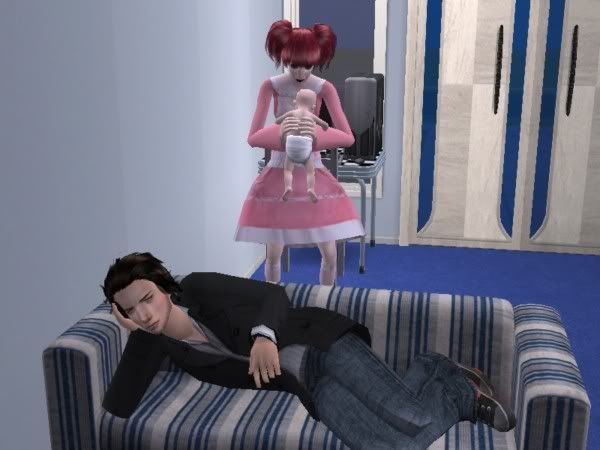 Lego: It's a boy!
Thermald: Good for you. :|


As this legacy has a running toy theme, the generation theme must be toy-related too. So, generation 1 shall be named after my favourite toy franchise as a kid, My Little Pony.

Yeah. The boys of this generation are going to have very masculine names.


This boy in particular is called Applejack.




Yeah, this one.

Lego was rather excited at the concept of childhood humiliation.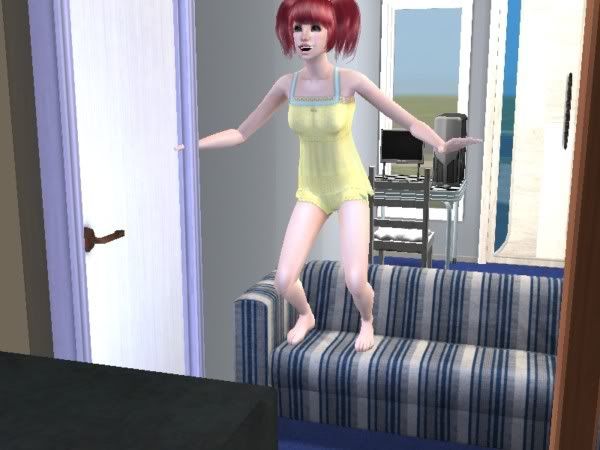 Lego: She assumed that naming a kid Corset was embarassment enough, when they were WRONG! AHAHAHAHAHAA!





Huh. Well this should be fun.





Thermald: NURSE!





Thermald: I THINK I'M DYING!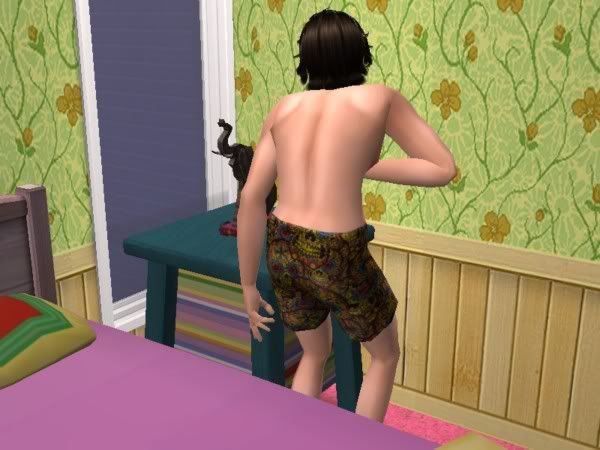 Thermald: I'M MEEEELTIING!





Thermald: Oh to hell with it.


What do you do when you're husband has flu, I hear you cry?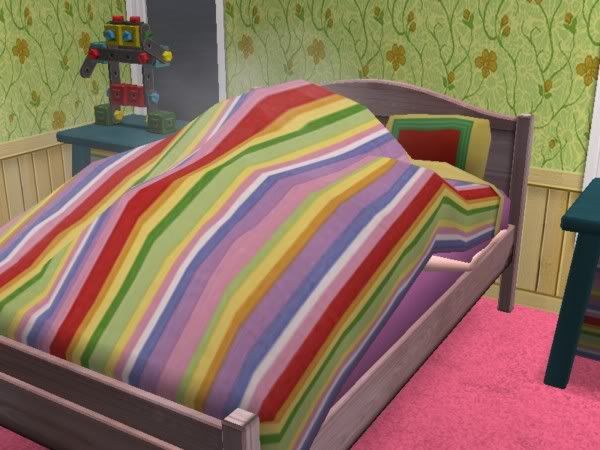 Kinky nurse costume not necessary.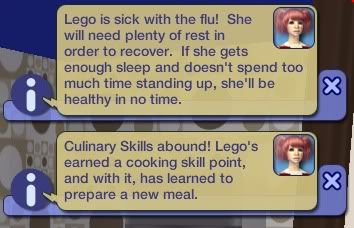 You had sex with your painfully-ill husband knowing full well he felt like crap and now you feel like crap too. But congratulations, you can cook!


Now you'll leave your clueless husband to look after the defenceless baby by himself so the whole family will get infected!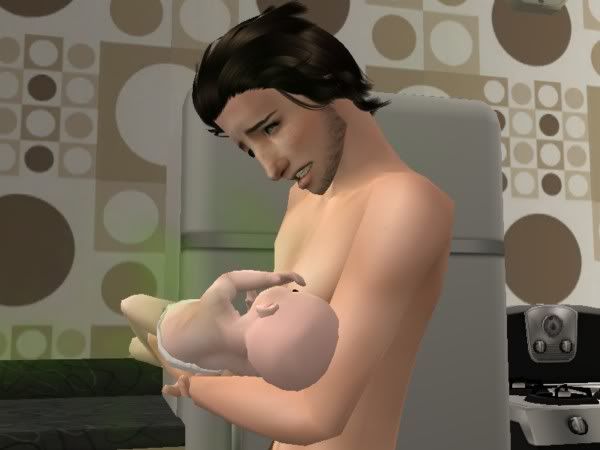 Thermald: I'll just leave this here. He'll be fine talking to the floor dust-bunnies. Dust bunnies sound so adorable, I bet he'd love them.





Lego: No, no, Dust Bunnies are horrible. What this little guy really needs is a cute little flu virus of his own. They really are adorable.





Lego: And then I'm going to work and spread this virus all over the science lab!





WHILE MY HUSBAND RECOVERS! NOT AS PLANNED!





Lego: AND THEN SPREAD MY GERMS ALL OVER THE BIRTHDAY CAKE!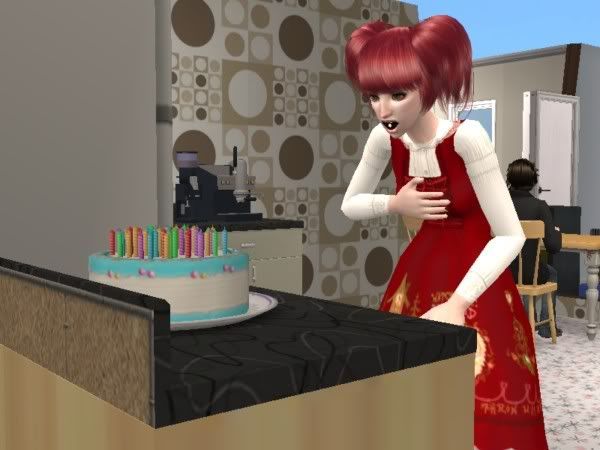 Lego: AHAHAHAHAHA-HACK.HACK.BLEERGH.CHAACK.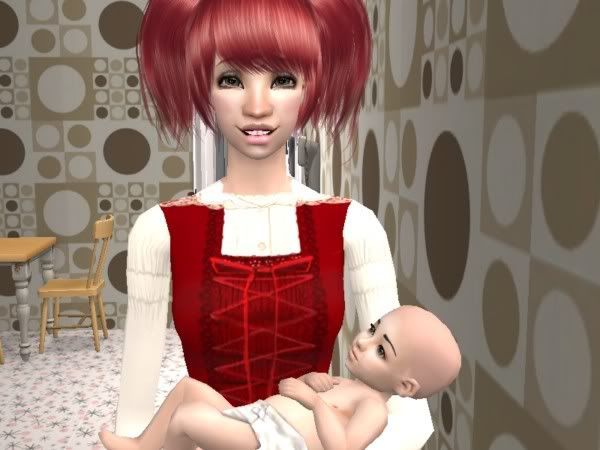 Lego: That should do the trick.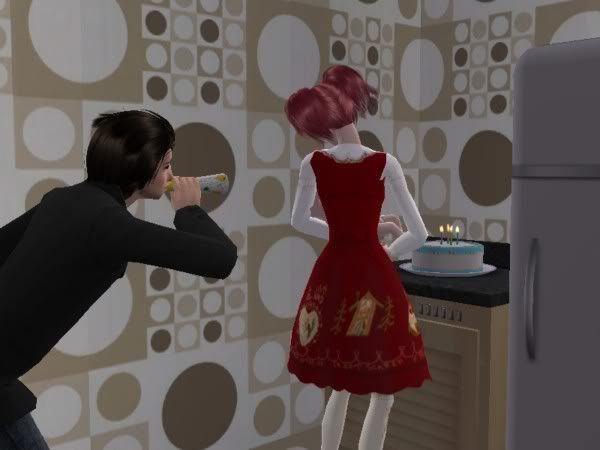 Thermald: No! I must blow these germs away! *Puff*





Thermald: Aw dammit, Lego! You could have just spread the germs into the toilet!


While not sick yet (as far as I know), Applejack looks a lot like his mother.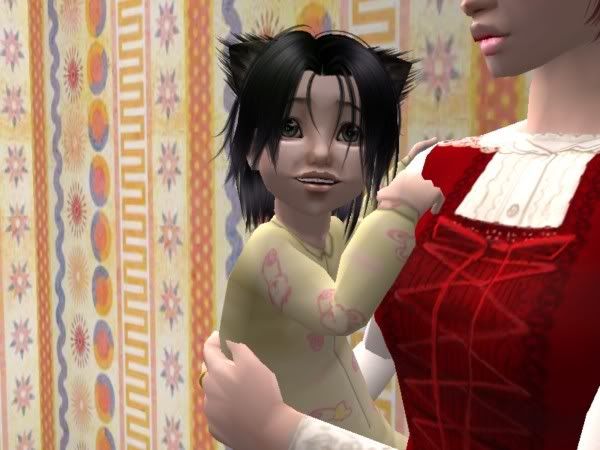 And really friggin' adorable.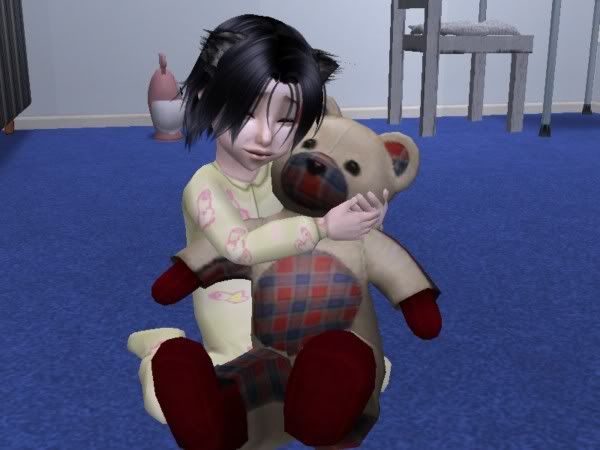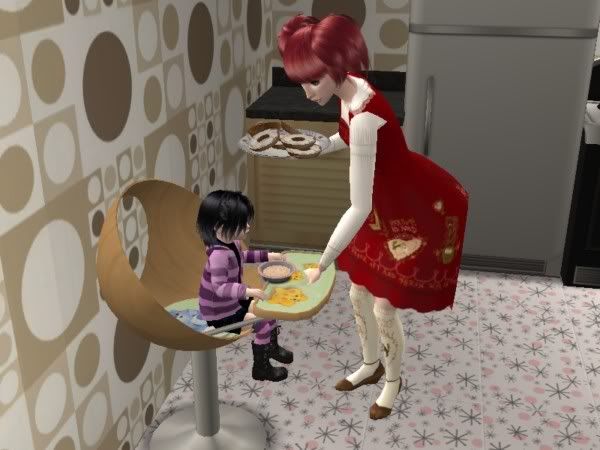 Adorable enough to throw about mid-air in fact.




Lego: And you're never coming down!





Applejack: How did you manage to get a nightlight above your head like that!? :D






Baby number 2 on it's way.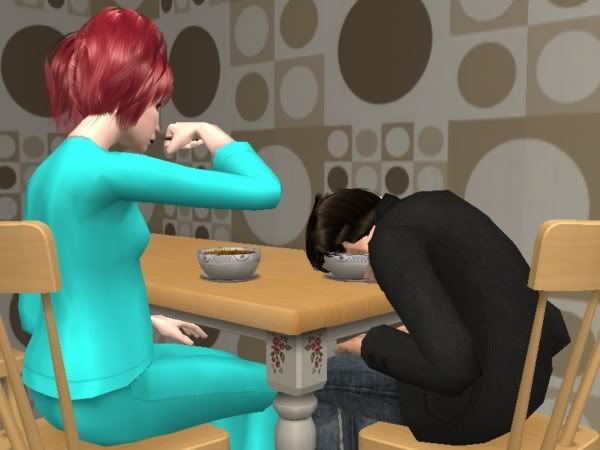 Thermald: Fan-bloody-tastic. *Face!Bowl*





Samuel: When are you giving my wife back!?
Thermald: What?


And so it was time for Applejack to grow up. Barely seems 5 seconds, really.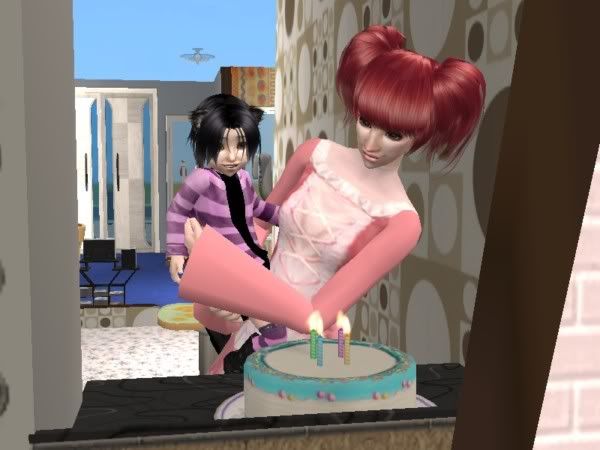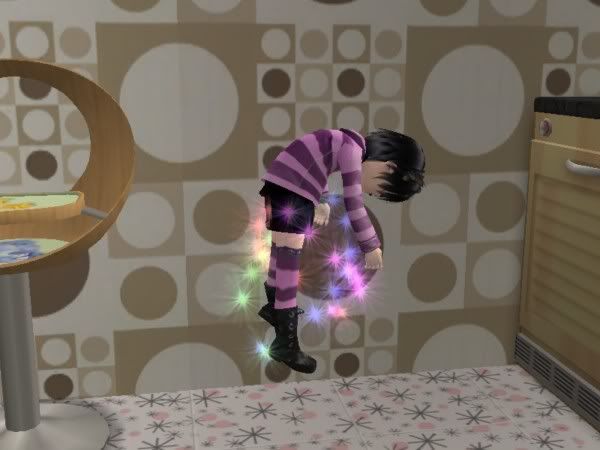 Applejack: I'm floooatiiing~! Sparkles, carry me away, to a land of dreams and purple iguanas and such!





He has his father's dark hair and nose, but the rest is all Lego. :)





Thermald: There's a creepy-looking child with enormous sparkly eyes sat behind me playing video games like he's godly.





Applejack: It's your son! I grew up when you were sleeping!
Thermald: And got a nice speech bubble as well, I see.


Pop!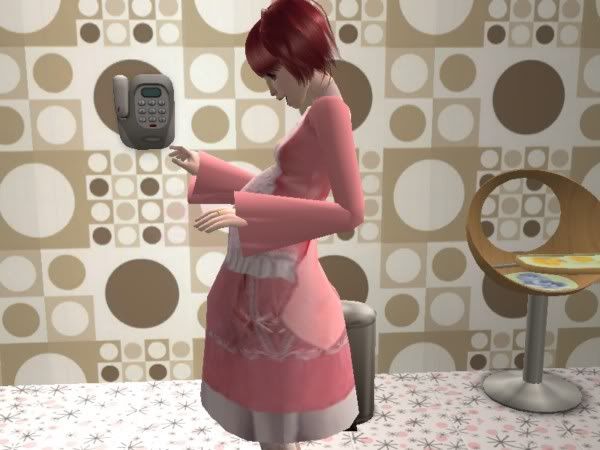 While remaining surprisingly calm... for the most part.




Being a good father...






...Swirling into a pit of depression afterwards...





Lego: THERMALD WHITMAN-TOYBOX, YOUR SPERM MAKES MY LIFE A MISERY!





Thermald: But I thought you enjoyed my sperm...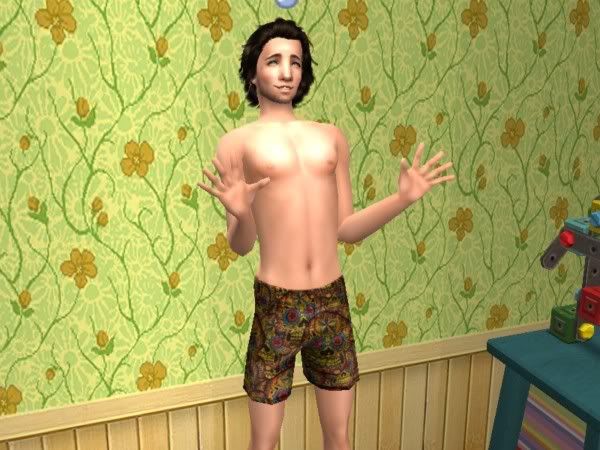 Thermald: Oh wait!





A girl!


So, what MLP will this kid be named after?





For those of you who didn't grow up on My Little Pony, that mare right there is Lickety-Split. Because Lickety-Split is quite possibly the best name you can give to anything.

A bit of trivia, I was actually too young for the first-gen My Little Ponys, I grew up on the second-generation variety. You know, the slim, brightly-coloured, almost resembling horseified-16-year-old-girls variety. Yeah, those ones. I owned all of the models in that picture, excluding Clever Clover. Morning Glory was my first and favourite, if I remember correctly Despite that, I've still ended up with a couple of first-gens that I got from a car-boot sale when I was about 7. No way I'm letting go of those babies. Actually, this toy theme is making me nostalgic, I really want to buy some My Little Ponys now. I collect anime figures, why the hell not?

Oops, sorry for the little personal rant.


But yeah, child number two is Lickety-Split.


Thermald is practically giddy to the point of shouting to the wall.




Lego: Good god, please tell me the stupidly-named baby was a dream!
Thermald: Lego, the floor needs changing.

PREVIOUS UPDATE:

1.0